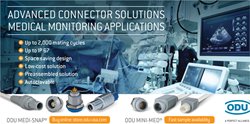 Advanced connector solutions for medical monitoring applications by ODU readily available now.
CAMARILLO, Calif. (PRWEB) February 28, 2018
ODU, a worldwide leader in designing and manufacturing high performance connector solutions and cable assemblies, is announcing its advanced connector portfolio for medical monitoring applications including portable patient monitoring systems, blood pressure monitors, measuring sensors, portable scanners, hand-pulse oximeters and more.
ODU-USA is now offering ODU MEDI-SNAP®, a lightweight autoclavable connector available for purchase online at store.odu-usa.com. Additional product features include: high chemical resistance, 2000+ mating cycles, versatile coding possibilities, sterilisable and economical housing.
ODU MINI-MED® is a low cost connector solution with pre-assembled plug and inline options, IP67, 1000+ mating cycles, DEHP-free and Break-Away function. ODU offers fast sample availability for this reliable connector.
Additionally, ODU provides also advanced customer benefits including local one to one engineering support, rapid prototyping and product development, cable assembly integrated solutions, custom connector capabilities, factory direct.
ODU Group: Global Representation with Perfect Connections
The ODU Group is one of the world's leading suppliers of connector systems, employing 1,900 people around the world. In addition to its company headquarters in Mühldorf am Inn (Germany), ODU also has an international distribution network and production sites in Sibiu/Romania, Camarillo/USA, Shanghai/China and Tijuana/Mexico. ODU combines all relevant areas of expertise and key technologies including design and development, machine tooling and special machine construction, injection, stamping, turning, surface technology, assembly and cable assembly. The ODU Group sells its products globally through its nine subsidiaries in Denmark, UK, Germany, France, Italy, Sweden, the US, China and Japan, as well as through numerous international sales partners. ODU connectors ensure a reliable transmission of power, signals, data and media for a variety of demanding applications including medical technology, military and security, eMobility, energy, industrial electronics, and test and measurement.