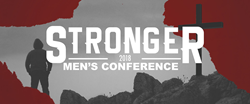 (PRWEB) March 02, 2018
Calvary Houston, an active church in the Friendswood, Texas area, understands the important role that men play in the modern family. For this reason, the church will be leading a men's conference on March 3rd, 2018, where Pastor Ron Hindt will encourage men to be all that God has called them to be in all aspects of their lives.
The title of the Calvary Houston Men's Conference, "Stronger," encapsulates the main purpose of the conference: to help men to be stronger in their walks with God. With his impactful expositional teaching style, Pastor Ron Hindt will also equip men to love their wives and to serve their families and community more effectively.
The purpose of such a men's conference is to allow men to connect with one another and to be reinforced in the roles that God has given to them. Through the encouragement they receive, they can more confidently and effectively live out these roles in their individual families as well as in the world at large.
Conferences such as "Stronger" are becoming more critical than ever before as the world's messages increasingly attack human dignity, including the dignity of men in particular. Many men are tired of this and are ready to receive spiritual direction and the stimulation they need to love others and lead with integrity.
This is particularly critical at a time when being unfaithful to one's wife and when being willing to compromise one's values for the sake of the mighty dollar are no longer viewed as immoral or unethical when the "situation is right," according to Pastor Ron Hindt.
The Calvary Houston church Men's Conference is just one way in which the church is striving to make a positive difference in the Friendswood community in 2018. The church also offers several services throughout the week, during which it inspires people to come to a saving knowledge of Jesus Christ and to continually develop their relationships with God.
The church received recognition in October 2017 when it helped to serve over 100,000 meals to victims of Hurricane Harvey, which has tied Hurricane Katrina as the most expensive tropical cyclone in the record books. In the aftermath of the hurricane, the church also offered 1,000 families much-needed food and supplies through its food pantry.