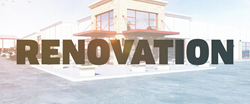 FRIENDSWOOD, Texas (PRWEB) March 07, 2018
Calvary Houston, which has played an active role in meeting physical and spiritual needs in the local Friendswood, Texas community, will be even more equipped to meet more needs this Easter thanks to a successful new building project. Easter offers an unparalleled reason for Christians to engage in celebration each spring -- the resurrection of Jesus Christ -- but the church's facility offers one more reason to be excited about Easter this year.
The church will celebrate the grand opening of its recently renovated facility on Easter Sunday. The church recently renovated 40,000 square feet of its existing facility, including a brand-new area for its children's church ministry, junior high ministry, and high school ministry. In addition, a new fellowship hall is available to be used for annual events and services.
In addition to viewing the beautiful new facility, churchgoers on Easter will have the opportunity to hear a special Easter message by Pastor Ron Hindt. Senior Pastor Ron Hindt is known for his expositional preaching style, where he explains biblical topics in a manner that is practical as well as educational. His goal every Sunday is to equip people to share the Good News of Jesus Christ, love others, and grow in their own relationships with God.
Hundreds of people in Friendswood and the surrounding areas call the church their home on a weekly basis. However, along with its Sunday morning service, the church offers a Sunday prayer service, Sunday youth service, Sunday Spanish service, and Wednesday service. These services have changed thousands of lives and continue to be sources of hope, encouragement, and wisdom for navigating the complexities of modern life.
Calvary Houston, known as a church that loves God, loves His Word, and loves people, will also host a men's conference in March that will equip men to love their families and help their communities in a fresh way. The church was furthermore involved in a conference in early February that focused on fulfilling the Great Commission in Cuba.
This is just a snippet of the church's major events in 2018, which demonstrate the heart that the church has for people in the local area, as well as those in other parts of the world.