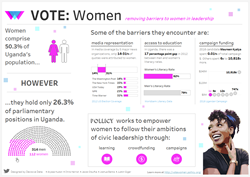 "Participating in Viz for Social Good has been a great opportunity to apply our consulting expertise to creative projects for a good cause." - Alyssa Hudon
SEATTLE (PRWEB) March 27, 2018
Decisive Data, a business analytics consultancy specializing in data visualizations and full stack data services is pleased to announce it has completed its third project through the program Viz for Social Good.
Viz for Social Good helps non-profits launch data visualization projects in a hackathon format, encouraging data viz experts to come together and design visualization for a good cause. For this specific project, five members of the
Decisive Data team created a viz for a nonprofit "Pollicy," a group of technologists, data scientists, creatives, and academics looking to innovate government service delivery across Africa.
The five members of the Decisive Data team that worked on this project included Alyssa Hudon, Chris Herron, Jacob Olsufka, Joshua Banks, and Justin Giger. For the project, the group created a Tableau dashboard for Pollicy's initiative VOTE: Women, which aims to elevate African women in leadership.
According to Hudon, Pollicy's "Vote: Women" data set presented a perfect use case for the data visualization tool Tableau, as well as data transformation tool Alteryx.
"Tableau enabled us to easily combine data visualization elements like bar charts, with design elements like photos and 'confetti' for our infographic," Hudon said. "We used Alteryx for coordinates, as one of our team members created an Alteryx workflow to generate coordinates for the parliament semicircle visualization in the dashboard."
She would go on to add, "Participating in Viz for Social Good has been a great opportunity to apply our consulting expertise to creative projects for a good cause."
The visualization shows that women comprise of 50.3% of Uganda's population, but only hold 26.3% of parliamentary positions in Uganda. The data set also showed that women's access to education in Uganda is way less than for men. Women's literacy rate is 62%, while men's literacy rate is 79%.
This project is a prime example of how data visualization technology, like Tableau, and data transformation technology, like Alteryx, can be key drivers in the global movement for social good.
About Decisive Data:
We believe every business decision should be informed by data. Decisive Data is a business analytics consultancy that delivers repeatable, actionable insight for making critical business decisions informed by data and science. Data visualization is our core focus, supported by full data analytics stack; as well as data science, predictive analytics, and data management. Enabling clients to make Data Driven decisions is central to our mission – and our exclusive technical & consulting focus.