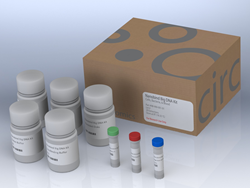 Rapid High MW DNA Extraction from Cells, Bacteria, Blood, and Plants
BALTIMORE (PRWEB) February 28, 2018
Circulomics has recently launched early access kits to perform high molecular weight (MW) DNA extraction for long-read sequencing and genome mapping. These kits use Nanobind technology and a simple 60 minute process to obtain high MW (50 kb – 300+ kb) and ultra high MW (50 kb – 1+ Mb) DNA.
In contrast to millions of individual magnetic particles, Nanobind uses a single magnetic disk that contains a high density of micro- and nanostructured silica on the surface. It can bind extremely large amounts of DNA while protecting it from damage to obtain the high quality and purity needed for long-read sequencing and genome mapping applications. Extraction is performed using a familiar bind, wash, and elute process that can be performed manually or automated using an instrument such as the Thermo Fisher KingFisher.
Two kits are currently being offered. The Nanobind CBB Big DNA Kit is being sold as a beta kit for high MW and ultra high MW DNA extraction from cells, bacteria, and blood. It has been validated across a variety of cultured cells, gram negative and gram positive bacteria, and whole blood samples by long-read sequencing and genome mapping. Automated protocols will be available for high MW DNA extraction from the supported sample types.
The Nanobind Plant Nuclei Big DNA Kit is being sold as an alpha kit for high MW DNA extraction from plant nuclei. It has been tested across a small pilot set of plant samples using long-read sequencing.
The Nanobind Big DNA Kits offer scientists a rapid alternative for applications where the highest DNA quality is required and multi-day gel plug extractions are often the only alternative. Typical extraction yields vary from 5 – 100+ µg depending on sample type and input. Additional Nanobind Big DNA Kits are in development to address a broader range of sample types including tissues, various clinical specimens, and small organisms.
In the future, downstream sample and library preparation products, such as Nanobind size selection kits and sample quality assays, will allow users to further enhance the quality of both long- and short-read sequencing data.