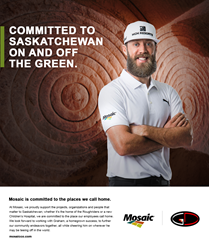 We look forward to working with Graham, a home-grown success, to further our community endeavors together, all while cheering him on wherever he may be teeing off in the world.
PLYMOUTH, Minn. (PRWEB) February 28, 2018
The Mosaic Company is proud to announce its first ambassador partnership with professional golfer and Saskatchewan native Graham DeLaet. The PGA TOUR standout is known to be one of the game's best ball strikers and is adored by fans for his iconic beard and authentic personality. DeLaet will feature The Mosaic Company logo on his right sleeve and lower bag belly positions during all PGA TOUR competitions. In addition, DeLaet's caddie, Julien Trudeau, will wear The Mosaic Company logo on his hat. The partnership will extend off the course with DeLaet and Mosaic collaborating on client, employee and charitable initiatives.
The Mosaic Company's aim is to help the world grow the food it needs. From 3,000 feet below the surface in their potash mines to soybean fields in China, Mosaic maintains a truly global presence. Mosaic has key distribution facilities in eight countries, serving customers in more than 40 countries around the world.
With its Canadian Head Office in Regina and mining operations in Belle Plaine, Colonsay and Esterhazy, Mosaic is deeply embedded in and committed to Saskatchewan. The province is home to more than 2,200 of the company's employees - it's where they live, work, and raise their children. Mosaic invests over $5 million on an annual basis into the Saskatchewan communities near their operations, including supporting key projects like the Jim Pattison Children's Hospital ($7 million commitment) and STARS Air Ambulance ($8 million invested).
DeLaet had an incredible breakthrough during the 2013/2014 season, with an unofficial MVP shout out by his peers during his first Presidents Cup appearance. To date, he has recorded 33 top-10 finishes on the PGA TOUR - including a personal Majors best of T7 at the 2017 PGA Championship. In 2016, Graham had the honour of representing his country in the Olympics, as golf returned to the Games for the first time since 1904.
"Partnering with Mosaic is like a constant reminder on my sleeve of my roots and the things I love most about Saskatchewan - the people and the sense of community," says DeLaet. We are very much alike in the sense that we are globally based, but always looking to give back to the people and places that have supported us.".
The Mosaic Company is known for its naming rights partnership with the Canadian Football League premier franchise, the Saskatchewan Roughriders. In 2006, the legendary Taylor Field transformed to Mosaic Stadium. Last year, the Riders hosted their inaugural season at their new state-of-the-art home, which proudly bears the same iconic Mosaic Stadium brand.
Like DeLaet, Mosaic is proud to call Saskatchewan home. He is known throughout Canada and the US as much for his on-course accomplishments and persona as his off-course successes with The Graham and Ruby DeLaet Foundation. Since 2014, the Foundation has raised over $1.5 million for charities supporting children's health and wellness and developing junior golf. This includes the Jim Pattison Children's Hospital in Saskatoon, which Mosaic has also supported since 2009.
"Graham DeLaet represents Saskatchewan, Canada—and himself – on the international stage with authenticity and class," says Joc O'Rourke, President and Chief Executive Officer at The Mosaic Company. "At Mosaic, we proudly support the projects, organizations and people that matter to Saskatchewan; whether it's the home of the Roughriders or a new Children's Hospital, we are committed to the places our employees call home. We look forward to working with Graham, a home-grown success, to further our community endeavors together, all while cheering him on wherever he may be teeing off in the world."
###
ABOUT THE MOSAIC COMPANY
The Mosaic Company is one of the world's leading producers and marketers of concentrated phosphate and potash crop nutrients. Mosaic is a single source provider of phosphates and potash fertilizers and feed ingredients for the global agriculture industry. More information on the company is available at http://www.mosaicco.com.
FOLLOW THE MOSAIC COMPANY ON SOCIAL MEDIA
Twitter: @mosaicincanada
Instagram: @mosaicincanada
Facebook: facebook.com/mosaicincanada
FOLLOW GRAHAM DELAET ON SOCIAL MEDIA
Personal Twitter: @GrahamDeLaet
Foundation Twitter: @Fore_Kids