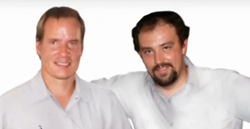 "A lot of times we'll take repair jobs that other shops don't want to do" -Brad Weiss, Co-Owner, Crawford's Auto Repair
MESA, Ariz. (PRWEB) March 01, 2018
After 4 or 5 years of being vacant, the Midas shop on the corner of Alma School Rd and Guadalupe Rd in Mesa, AZ is starting to show signs of life. While the building is technically in Mesa, the location is near the city boarder and also serves the nearby Chandler market of vehicle owners. The building has been getting renovated for a new franchisee and is potentially opening in March 2018. This may lead one to question what will be happening to other auto repair shops in the area, including Crawford's Auto Repair, which is right next door. The co-owners of Crawford's welcome the new neighbor and expect that the presence of a new big box shop will even be partially synergistic.
One reason this could be is that customers and nearby business owners alike will expect ethical practices and mutual respect from the new car shop. Also, since they'll probably be bringing additional traffic to the area, this will give customers a chance to see nearby businesses, even if these businesses are also auto repair shops. "A lot of times we'll take repair jobs that other shops don't want to do," says one of the co-owners, Brad Weiss. If someone comes to the new shop with a complicated repair and can't get it done there, then one of the first alternative places they'll look is Crawford's Auto.
However, it's still the nature of business to be competitive. Even still, a local Mesa Auto Repair shop, like Crawford's Auto Repair, understands that there are different segments of the vehicle owner market that they attract which only slightly overlap with the target of a nationwide franchise. There will always be a portion of the market that will only go to big box stores since nationwide brand recognition gives them comfort (and possibly since they're not aware of alternatives).
There will also always be a portion of the market that will appreciate the quality of service that can only be provided by a local auto repair shop like Crawford's. Most big box stores follow standard practices of the auto repair industry which means that customer interaction is handled by service writers who are paid by commission. Since the auto technician receives information from the service writer instead of directly from the customer, this creates a gap in communication that can lead to a misdiagnosis of the vehicle. The commission-based incentives also encourage service writers to add fees or services to the bill, thus increasing their commissions. This is much different from interacting directly with the owners of the shop whose primary goal is to offer value to their customers so that they keep returning, and so that they can trust that suggested repairs are to keep their vehicles running smoothly. At Crawford's Auto Repair, customers speak directly to the owners when getting service and repairs.
This report has no information on how this particular Midas will actually operate. However, Crawford's will be there to serve the portion of the market that wants to do business with a local repair shop.
Crawford's Auto Repair is located at 2855 S Alma School Rd, Suite 107, Mesa, AZ. For questions or more information, call to speak to an owner at 480-201-0740 or visit their website at https://www.CrawfordsAutoService.com.