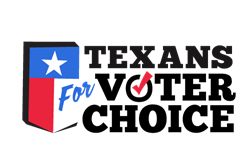 More choices, Fewer regulations, Free elections
AUSTIN, Texas (PRWEB) March 01, 2018
Texans for Voter Choice (TVC) released a new animated video to highlight how the Texas election system is rigged to discourage participation and more choices on the ballot. "Many voters blame the lack of choices on the ballot on money or biased media or ineptitude of the candidates. What they don't realize is that the laws heavily favor the Democrat and Republican parties," said TVC State Director Carly Rose Jackson
The video poses the question: Have you ever wondered why you have so few choices on election day? And often no choice at all because a candidate runs unopposed? Texas' strict ballot access laws set in place over a hundred years ago give Republicans and Democrats a free ride but routinely bar other qualified candidates from even running.
Texans for Voter Choice say: "Simply put the system is rigged."
But it doesn't have to be this way. That's why we are supporting the Texas Voter Choice Act. By reforming outdated, inefficient and oppressive regulations this bill protects your right to vote for the candidate of your choice. With your help we can modernize outdated procedures and restore voter choice in Texas so people not politicians decide who we elect. Let's make politicians in Austin listen to us for a change. Visit TexasVoterChoice.org to get involved today.