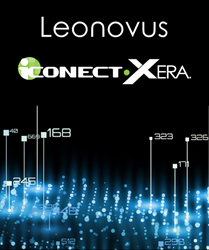 We immediately recognized the opportunity to create a paradigm shift in eDiscovery file storage and security,
LONDON and OTTAWA, Ontario (PRWEB) March 01, 2018
iCONECT CA Inc. (US and Canada), the makers of the iCONECT-XERA document and multi-media review platform, iCONECT-XERA, has executed a Letter Of Intent (LOI) with LEONOVUS (TSXV:LTV) an Ottawa, CANADA based software defined storage and encryption technology company. The primary use-case for iCONECT-XERA, distributed by iCONECT Development, LLC, has traditionally been to review data for eDiscovery in litigation. Data included in eDiscovery projects are often highly confidential, as they can include both attorney work product and trade secrets. The LOI commits the firms to create a combined product offering designed to assist corporations and legal service providers to increase security of these and other sensitive data and meet regulatory requirements.
The Leonovus technology was designed with the assumption that all enterprise security systems are vulnerable to failure and that cybersecurity breaches are inevitable. Therefore, Leonovus 3.0 digitally scrambles and shreds electronic files rendering the data unreadable. It presents an illegible pile of digital nuggets to unauthorized persons and stops ransomware, while fully maintaining standards, audit and chain of custody requirements.
The encryption of working data in eDiscovery is a game-changer in the industry, as decryption latency has made it impractical. For review of the stored files, iCONECT is collaborating with Leonovus technical staff to integrate a method of reconstituting the digital nuggets and presenting documents, videos and audio to eDiscovery users as if the files were always in their native format. Corporations and legal service providers worldwide can use Leonovus' patented military-grade encryption methodology, in combination with their iCONECT-XERA document and multi-media review platforms. All elements in iCONECT-XERA will be accessible seamlessly, including the ability to search, analyze, organize, review, communicate, and produce.
Leonovus uses FIPS 140-2 level encryption (Federal Information Processing Standard), regarded as the benchmark for US and Canadian military information encryption logs. The secure data nugget metadata is Blockchain-hardened. The resulting enterprise data storage leads to improved governance, ROI, ultra-security and reduced errors. The digital nuggets can also be distributed across multiple data storage services or devices, providing significant savings when redistributed to lower cost storage.
"We were blown away when we first saw the Leonovus technology. We immediately recognized the opportunity to create a paradigm shift in eDiscovery file storage and security," said Ian Campbell, CEO of iCONECT.
"A Senior Product Manager for a leading eDiscovery firm told me 'It's not a question of IF we'll get hacked, it's simply a matter of when.' Although this extra layer of security comes at a cost, it provides additional insurance against unauthorized access and manipulation of data. The ability to create this level of security without disrupting our users' workflow is key," said Campbell.
"The integration with iCONECT is an exciting step as they were named as one of the 50 Most Valuable Brands of the Year 2017 by Silicon Review. Their deep product knowledge, regarding the protection and management of legal documents and their market penetration, and associated workflows have given Leonovus a unique market insight for our product development team. Moreover, the real goal is to expand the sales of both companies with an unparalleled blockchain hardened data security, compliance and document review solution," said Michael Gaffney, Chairman and CEO.
The integration with Leonovus will be available in Q2 as an add-on module for iCONECT-XERA. Both systems can be deployed behind an organization's firewall or in a secure cloud.
ABOUT ICONECT
iCONECT Development, LLC develops the innovative eDiscovery software, iCONECT XERA. iCONECT XERA raises the bar by delivering intelligent, easy-to-use tools that help hosting providers, law firms, and legal departments worldwide optimize workflows and manage big data more efficiently. iCONECT was honored by Silicon Review magazine as one of the 50 Most Valuable Brands of the Year 2017. In 2016, CIO Review named iCONECT one of the Top 20 Most Promising eDiscovery Technology Solution Providers. To learn more visit http://www.iconect.com
ABOUT LEONOVUS
Leonovus is a software solutions provider that offers the leading blockchain hardened software-defined object storage solution (SDOSS) and governance, risk management and compliance ('GRC') solution for the modern enterprise. Designed with the IT manager in mind, Leonovus' patented algorithms virtualize, transform, slice and disperse data across a network of on-premises, hybrid or multi-cloud storage nodes – allowing for the most secure yet internally accessible form of object-based data storage that provides governance, risk-management, and compliance across the entire solution. Leonovus provides Petabyte scalability and allows the enterprise to utilize its existing idle storage resources, extend the useable lifespan of depreciated resources and improve the enterprise's overall ROI. To learn more, please visit http://www.leonovus.com
This press release may contain forward-looking statements and information, which may involve risks and uncertainties. The results or events predicted in these statements may differ materially from actual results or events. Factors that might cause a difference include, but are not limited to, competitive developments, risks associated with Leonovus' growth, the state of the financial markets, regulatory risks and other factors. There can be no assurance or guarantees that any statements of forward-looking information contained in this release will prove to be accurate. Actual results and future events could differ materially from those anticipated in such statements. These and all subsequent written and oral statements containing forward-looking information are based on the estimates and opinions of management on the dates they are made and expressly qualified in their entirety by this notice. Unless otherwise required by applicable securities laws, Leonovus disclaims any intention or obligation to update or revise any forward-looking statements, whether as a result of new information, future events or otherwise. Readers should not place undue reliance on any statements of forward-looking information that speak only as of the date of this release. Further information on Leonovus' public filings, including its most recent audited consolidated financial statements, are available at http://www.sedar.com.
Neither TSX Venture Exchange nor its Regulation Services Provider (as that term is defined in policies of the TSX Venture Exchange) accepts responsibility for the adequacy or accuracy of this release.