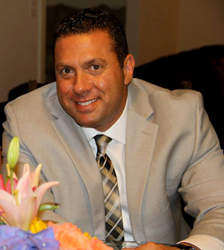 Forward Mortgage is a one-stop broker shop for all loan programs. My approach is straightforward and transparent,which puts me above my competitors,"
FAIRFIELD, N.J. (PRWEB) February 27, 2018
Five Star Professional is pleased to announce Christopher Di Girolamo, Forward Mortgage, LLC, has been chosen as one of New Jersey's Five Star Mortgage Professionals for 2018.
Five Star Professional partnered with New Jersey Monthly to recognize a select group of New Jersey mortgage professionals who provide quality services to their clients. Less than 2% in the area were selected. Christopher Di Girolamo is featured, along with other award winners, in a special section of the March issue.
"Forward Mortgage is a one-stop broker shop for all loan programs. My approach is straightforward and transparent, which puts me above my competitors," said Christopher Di Girolamo of Forward Mortgage. "I started in this profession to help people achieve the American dream of homeownership. Buying a home is the single biggest decision in someone's life. It provides me great satisfaction and happiness in helping so many clients achieve this dream."
Five Star Professional has been conducting market research to define and promote professional excellence in service professionals since 2003. The Five Star Mortgage Professional award program is conducted in more than 30 markets throughout North America. Mortgage professionals are measured using an objective, in-depth research methodology with significant focus on customer feedback and overall satisfaction.
"Five Star Professional's research is extensive, with more than 10 million consumers, peers and other stakeholders contacted each year. We are relentless in our efforts to identify those professionals with the utmost standard of excellence," Jonathan Wesser, VP of Operations, Five Star Professional.
See Christopher Di Girolamo's Five Star online profile here!
Thousands of consumers are contacted to rate their mortgage professional on evaluative criteria including customer service, integrity, communication and overall satisfaction. Beyond a qualifying client evaluation score, professionals are evaluated on objective criteria such as experience, production levels and disciplinary and complaint history.
There is no fee to be considered or awarded. Visit http://www.fivestarprofessional.com for more information.