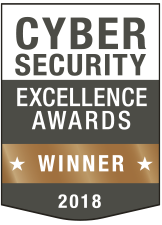 NEW YORK (PRWEB) February 28, 2018
NopSec, an industry-leader in vulnerability management and cybersecurity services, has been named as the bronze winner of the 2018 Cybersecurity Excellence Awards for Vulnerability Management.
NopSec's flagship product, Unified VRM, is a cloud-based SaaS platform powered by the world's most advanced attack simulation and risk remediation technology, E3 Engine. Unified VRM provides financial institutions, government entities, and others with a centralized vulnerability and risk management suite, including remediation prioritization, industry risk benchmarking, and ticketing.
"It's an honor to be recognized for excellence in Vulnerability Management," said Lisa Xu, NopSec Co-Founder and CEO. "This win further validates our efforts to provide best-in-class cybersecurity solutions for our clients. I'm proud of our team for their hard work they've put in, and the hard work that they continue to put in to build a better product."
Since 2016, finalists for the Cybersecurity Excellence Awards have been selected based primarily on strength of nomination, including demonstrated leadership in the industry, excellence and results in cybersecurity, and secondarily on the popular vote and comments received from the greater cybersecurity community.
About NopSec
NopSec provides automated attack simulation and risk remediation solutions to help businesses protect their IT environments from security breaches. The company's flagship SaaS product, Unified VRM powered by E3 Engine, utilizes passive analysis, active exploitation and contextual enrichment that enables security teams to visually forecast threat risk, and dramatically reduce the time to remediation of critical security vulnerabilities across infrastructure and applications. NopSec has been recently named to Info Security Products Guide's 2017 Global Excellence Awards List in Vulnerability Assessment, Remediation and Management and Platinum Award Winner to the 2017 American Security Today's Homeland Security Awards for Best Cyber Security Solution Provider. NopSec is based in New York, NY. For more information, visit http://www.nopsec.com or follow us on Twitter @nopsec.