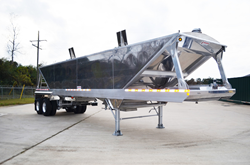 The best frac sand delivery solution on the market.
BEAUMONT, Texas (PRWEB) March 01, 2018
Dragon Products, energy and industrial equipment manufacturer, has introduced Sand Force™, a double drop, bottom discharge trailer-mounted sand delivery trailer.
Specifically designed for frac sand, Sand Force™ unloads the standard 25 tons of frac sand in approximately 11 minutes— orders are being taken now.
"Since we began building pneumatic sand pod systems and trailers earlier this year, we have listened to our customers and folks in the field," said Vice President Johnny Tennison. "We've seen their needs and requirements change and have quickly responded with what we believe now represents the best frac sand delivery solution on the market."
Dragon's focus on sand delivery systems comes in response to dramatic increases in sand usage with more than 2.5 million proppant truck trips each year in the Permian Basin alone. The growth of local sand use, and the massive increase in frac sand demand seems likely to continue.
"The amount of sand required per frac job has more than quadrupled over the last five years," according to Gary Lidiak, Product Specialist for sand systems and pneumatics. "As last mile logistics become an increasingly important part of the value chain Dragon will continue to deliver solutions that offer our customers a competitive advantage."
To learn more about Sand Force™ and Dragon's complete line of sand solutions visit dragonproductsltd.com/sand-delivery-systems/
ABOUT DRAGON PRODUCTS
Dragon is a leading manufacturer of mission critical products serving the energy and industrial industries. Based in the United States, and family owned and operated for more than 50 years, the Dragon name is synonymous with "severe duty engineered" equipment for a broad range of applications including well servicing, bulk storage, liquid and solids hauling, and a variety of pumping and mud solutions. Their equipment portfolio includes tanks and trailers; roll off equipment; pumps and stimulation equipment; mobile workover rigs; and surface production equipment. To learn more visit http://www.dragonproductsltd.com