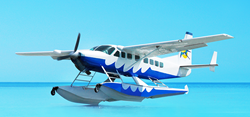 Our newly introduced 'Fly & Sail' program offers guests a unique opportunity to experience the best way to see the full natural beauty the Bahamas has to offer from the air and from the water
FORT LAUDERDALE, Fla. (PRWEB) February 28, 2018
Tropic Ocean Airways, the leading seaplane operator in the Eastern U.S., and The Moorings, the world's premier yacht charter provider, today announced the introduction of their "Fly & Sail" program offering air and sea adventures to the Bahamas for discerning travelers.
The combination of Tropic Ocean Airways' award-winning seaplane service, operated with factory-new Cessna Grand Caravan EX amphibian aircraft, and The Moorings live-aboard catamaran vacations in the Abacos and Exumas, provide guests the unique opportunity to experience superior personalized service and the best scenery the Bahamas has to offer by both air and water.
Guests of the "Fly & Sail" program may depart from Tropic Ocean Airways' lounge at Fort Lauderdale-Hollywood International Airport's private fixed base operations (FBO) Sheltair or the Miami Seaplane Base, which is centrally located between Downtown Miami and South Beach on Watson Island. Upon arrival, Tropic Ocean Airways' dedicated lounge staff greet guests for special assistance with valet parking, bag handling, and check-in, and introduce guests to their two personal pilots. Following a less than 90-minute scenic flight to either Nassau or Marsh Harbour, guests board their private catamaran to sail south to the Exumas or around the Abacos. Island-hopping from one island to another is the ideal way to experience a truly immersive Bahamas vacation and offers the freedom and flexibility only attainable via private yacht.
"Our newly introduced 'Fly & Sail' program offers guests a unique opportunity to experience the best way to see the full natural beauty the Bahamas has to offer from the air and from the water," said Tropic Ocean Airways CEO Rob Ceravolo.
All Tropic Ocean Airways flights to and from the Bahamas feature premium seating for up to eight passengers each carrying up to 30 pounds of baggage, aboard a two-pilot crewed Cessna aircraft, seven of which were delivered to Tropic Ocean Airways brand new from the aircraft manufacturer. Each aircraft features comfortably spacious, fully air-conditioned luxury interiors.
With yachts ideal for six to 10 guests, The Moorings offers the ultimate yacht charter experience. Guests can choose between bareboat "sail-it-yourself" sail and power catamarans, or opt to hire a Moorings skipper to sail the yacht. For a more luxurious vacation, all-inclusive crewed yacht charters are available, complete with captain and gourmet chef.
For additional information on the Tropic Ocean Airways and The Moorings "Fly & Sail" program, visit https://www.moorings.com/destinations/americas/bahamas/charter-flights . To book the "Fly & Sail" program, email reservations(at)flytropic(dot)com, or call 1-954-210-5569 or 1-800-767-0897. Visit Tropic Ocean Airways at flytropic.com.
About Tropic Ocean Airways
Tropic Ocean Airways is a U.S.-certificated commuter air carrier, founded by U.S. Navy TOPGUN fighter pilot Rob Ceravolo in 2009. The airline safely transported nearly 20,000 passengers in 2017 aboard its fleet of 11 Cessna Grand Caravan EX aircraft, which are extremely versatile and capable of safely landing on water and land, making Tropic Ocean Airways the airline of choice for the discerning air traveler. In addition, the carrier is adding four new aircraft to its operations in 2018. Tropic Ocean Airways is the recipient of the highly-coveted ARGUS Gold rating for safety and enjoys a 5-star customer service rating on TripAdvisor. Ceravolo and his team of experienced professionals have developed and implemented standard operating procedures borrowed from the U.S. military, which ensures the highest levels of safety and service aboard each flight.
About The Moorings
After more than 45 years at sea, The Moorings has established its reputation as the world's premier yacht charter company. Its award-winning charter fleet now includes more than 400 yachts in over 20 destinations across the globe. Whether it's a self-skippered monohull, a sail catamaran with a skipper at the helm, a high-performance power catamaran, or a crewed yacht with a captain and chef, The Moorings make time on the water truly unforgettable.