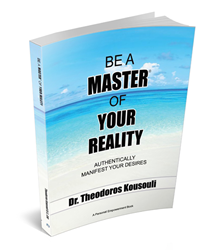 LOS ANGELES (PRWEB) March 07, 2018
BE A MASTER® of YOUR REALITY takes readers on a deep exploration of the inner self to help them find their authenticity; that spark inside that craves maximum expression for living an extraordinary life of creative joy. Dr. Kousouli's process and discussion for exploring the inner self is powerful and includes fun exercises, questionnaires and worksheets that allows his readers to discover the soul's key desires! The book literally becomes the vision board of their life's powerful future possibilities!
About the Author:
Dr. Theo Kousouli is a leading mind-body holistic healer who is changing the landscape in his field. He is a Board Certified Doctor of Chiropractic (spinal specialist), a hypnotherapist, and best-selling author of 8 life-changing books. As a personal transformation coach, Dr. Kousouli has advised entertainers, business leaders, energy healers and spiritual seekers of all varieties using the Kousouli® Method. His professional and spiritual path is a direct result of overcoming family, health and medical misfortunes as a young man.
The Kousouli Beverly Hills Chiropractic Health & Wellness Center is located on Wilshire Blvd. Books are available on Amazon and at http://www.BeAMaster.com
Social Media:
https://www.instagram.com/drkousouli
https://www.facebook.com/drtheokousouli
http://www.BeAMaster.com
Website:
http://www.DrKousouli.com
#DrKousouli #BeAMaster