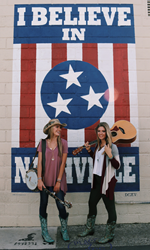 They are a dynamic and authentic duo, we really like them as they lead an example for younger generations as entrepreneur women's and 'humane artists' who have emotional connection with their followers and fans. - Christian Stefanoni, Head of Marketing for Corral Boots
ORLANDO, Fla. (PRWEB) February 28, 2018
Gabriela and Bianca LeDuc of Diamond Dixie will be one of a select group of artists from superstar to new star who has the honor of being tapped to endorse a boot manufacturer in the country music world. Corral has redefined the marketplace for women's western boots in North America, much like the way Diamond Dixie has shook up the country music scene in the past few years. This is a match made in heaven for both parties looking to connect with their millennial fans in a fun and fashionable way who spend significant amount of time seeing their favorite acts perform at festivals all over North America.
Founded in 1999, Corral Boots was the first western brand to introduce the concept of fashion-forward cowgirl boots to the entire world. At the time Corral revolutionized the industry provoking a tremendous shift in the western fashion perception. Today the brand is a symbol of modernization, producing supreme leather quality boots, which some consider as "a piece of art". Corral Boots is one of the worlds leading western fashion forward brands, with a renowned reputation for its creative disruptive collections. Now with over 800 retailers across the U.S. and Mexico, Corral has become a household name in country western footwear.
Gabriela (20) and Bianca (18) LeDuc have set the Florida music scene on fire with beautiful covers of today's hits and their own original songs. They were recently named the top country duo in Florida by WBCW Florida Country Radio in Orlando. This partnership with Corral gives them the opportunity to use their social media influence to expand the brands presence among the coveted 18-24-year-old demographic.
Gabriela and Bianca see Corral Boots as the perfect fit, "I loved Corral way before we decided to collaborate with the company. I never put on a pair of boots that made me feel better on-stage or off," said Gabriela. Bianca added, "I get questions at every show and on Instagram all the time about what boots am I wearing. I think Corral makes the perfect boot for Gabriela and myself!"
2018 is a massive year for Corral as they launch the Festival line that Diamond Dixie will be the face of the brand. Head of Marketing for Corral Christian Stefanoni thinks the girls are perfect for this brand, "They are a dynamic and authentic duo, we really like them as they lead an example for younger generations as entrepreneur women's and "humane artists" who have emotional connection with their followers and fans."
Diamond Dixie's agent Evan Morgenstein added, "The momentum continues to grow between this deal with Corral, a soon to be announced eyewear deal, and a number of festival appearances this summer. The girls are super hot right now. Brands are knocking on my door asking how they can tie in with Gabriela, Bianca, and their nearly 500,000 followers across all social media platforms. They are redefining where influence and artist come together."
The Festival line of Corral boots will be available on March 2018 and can be purchased through your nearest retailer and/or http://www.corralboots.com.