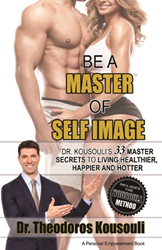 Los Angeles, CA (PRWEB) March 01, 2018
Tired of torturing yourself to become thinner? Looking to hit the beach, attend a sexy event, a night on the town with your lover, a reunion, a wedding or other big event? Stop buying into the diet industry's late night infomercials looking to sell weight loss pills, with 'before and after' photo marketing schemes, the latest fad diet, or false medical clinical trials.
"Be A Master®of Self Image" is loaded with honest, useful, practical, and applicable information that anyone can use right now to feel and look fitter, happier, and sexier without killing themselves at the gym.
About the Author:
Dr. Theo Kousouli is a leading mind-body holistic healer who is changing the landscape in his field. He is a Board Certified Doctor of Chiropractic (spinal specialist), a hypnotherapist, and best-selling author of 8 life-changing books. As a personal transformation coach, Dr. Kousouli has advised entertainers, business leaders, energy healers and spiritual seekers of all varieties using the Kousouli® Method. His professional and spiritual path is a direct result of overcoming family, health and medical misfortunes as a young man.
The Kousouli Beverly Hills Chiropractic Health & Wellness Center is located on Wilshire Blvd. Books are available on Amazon and at http://www.BeAMaster.com
Social Media:
https://www.instagram.com/drkousouli
https://www.facebook.com/drtheokousouli
http://www.BeAMaster.com
Website:
http://www.DrKousouli.com
#DrKousouli #BeAMaster