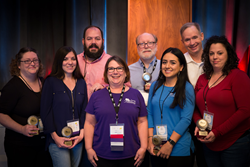 Our business goal is to find a solution for every client and we work very hard every day to say yes to whatever transition service our clients need – whether it's a traditional service or something we can build custom to their specific situation. - Sherri Gillette
TUSCON, Ariz. (PRWEB) February 28, 2018
For Sherri Gillette, being a Caring Transitions business owner is more about trying to help every client – not about always looking for the most lucrative opportunities. That commitment to clients, coupled with providing an outstanding customer service experience, has pushed Gillette and Caring Transitions of Southern Arizona to the top franchise in the entire Caring Transitions system. That's why Gillette was recently awarded the Caring Transitions Franchisee of the Year Award.
The Caring Transitions Franchisee of the Year Award recognizes the company leading franchise owner on multiple fronts – business development, customer service and community building. The award was presented at the company's national conference on February 9, 2018.
"Sherri is able to achieve great results by truly caring about her clients, employees and referral sources. She is kind, caring and competent and she's taught her team to be the same way. They always do the right thing, which has earned them an amazing reputation in the marketplace. Her 'say yes' approach to her business and her commitment to her clients makes her the best of the best. That's why we chose her at the Franchisee of the Year for 2017," Caring Transitions Chief Operating Officer Al Scobell said.
Caring Transitions is a national franchise and in more than 200 markets. Caring Transitions of Southern Arizona's specially-trained team can handle organizing, packing, de-cluttering, moving, resettling, in-person and online estate sales, liquidations and preparing homes for market. Caring Transitions specializes in managing senior relocations, but the services are also perfect for busy families and individuals in need of assistance. Caring Transitions of Southern Arizona, which has been operating since 2010, serves Tucson, Oro Valley, Saddlebrooke, Sierra Vista, Sahuarita, Green Valley and other Southern Arizona communities.
"Winning this award is amazing. It was a shock and a great validation of what my team and I are doing right, both in the system with business development and in the community with customer service and relationship building," Gillette said. "Our business goal is to find a solution for every client and we work very hard every day to say yes to whatever transition service our clients need – whether it's a traditional service or something we can build custom to their specific situation. I think that commitment to serving our clients has been a huge part of our success over the years."
Caring Transitions' services are perfect for seniors moving in with family or into a safer living situation as well as busy families and people clearing out the home of a loved one who has passed. All of Caring Transitions' services are customizable, so clients only pay for the services they need – whether that means managing the entire move and estate-clearing or just getting someone resettled into their new place.
In 2018, Gillette is looking forward to expanding her business to better serve people in hoarding situations as well as helping to roll out a newly redesigned Caring Transitions online auction website, which her team is testing now. Gillette added that the Caring Transitions family has also had a huge impact on her business.
"There is power in the momentum of the brand, especially over the last couple of years. The owner group has gotten more active and that has helped grow the business, both here in Arizona and nationally. Having that Caring Transitions family to turn to has been amazing and I'm so thankful for their support," she said.
Caring Transitions of Southern Arizona is bonded and insured and all W2 employees have been background-checked. For additional information about Caring Transitions of Southern Arizona, call (520)262-1495, email SGillette(at)CaringTransitions.net or visit http://www.CaringTransitionsTucson.com.