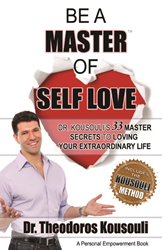 LOS ANGELES (PRWEB) March 01, 2018
"Be A Master® of Self Love" is a is a comprehensive guide to loving yourself and combines mental, spiritual, physical, medical, and holistic approaches to self-love.
Whether you've been bullied, grew up with abusive parents, experienced drug abuse, sexual assault, or just had extensive experience with failure, Dr. Kousouli's "Be A Master® of Self Love" provides 33 effective and supportive tips for boosting your self-love and self-esteem. This unique book explores issues that may have blocked your happiness, especially self-imposed limitations from early childhood, formative events, and even clinical depression.
About the Author:
Dr. Theo Kousouli is a leading mind-body holistic healer who is changing the landscape in his field. He is a Board Certified Doctor of Chiropractic (spinal specialist), a hypnotherapist, and author of 8 life-changing books. As a personal transformation coach, Dr. Kousouli has advised entertainers, business leaders, energy healers and spiritual seekers of all varieties. His professional and spiritual path is a direct result of overcoming family, health and medical misfortunes as a young man.
The Kousouli Beverly Hills Chiropractic Health & Wellness Center is located on Wilshire Blvd. Books are available on Amazon and at http://www.BeAMaster.com
Social Media:
https://www.instagram.com/drkousouli
https://www.facebook.com/drtheokousouli
http://www.BeAMaster.com
Website:
http://www.DrKousouli.com
#DrKousouli #BeAMaster