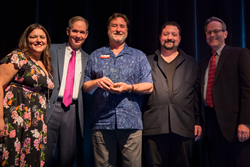 Now our entire business is online and that's how we market ourselves. It's been perfect for this community and now we've done more than 300 online liquidations. - Rick Parkinson
GREENVILLE, S.C. (PRWEB) February 28, 2018
When Rick and Janet Parkinson opened Caring Transitions of Upstate South Carolina, they quickly found that, while they were able to offer the full suite of transition services Caring Transitions is known for, the community really needed them for liquidations and estate sales. They also realized the traditional on-site estate sale model wasn't working for their clients. With the support of the franchise office, the Parkinsons pioneered online liquidation estate sales to great success.
In recognition of their efforts in their own community as well as their support of the online estate sale service throughout the franchise system, the Parkinsons were presented the Caring Transitions Pioneer Spirit Award at the company's national conference on February 9, 2018.
"If not for Rick and Janet Parkinson, we would not have an online auction liquidation option. Rick and Janet helped us form a strategy for success and offered input on how to create operational efficiencies. The Parkinsons were truly pioneers in their desire to serve clients with a method that maximized the client's desire for anonymity, security, reduced liability, a completely cleared house and an optimal return on their possessions. Their willingness to work with the home office to build the online auction service changed the way we do business and has made an impact on franchisees and clients across the country," Caring Transitions Chief Operating Officer Al Scobell said.
Caring Transitions is a national franchise in more than 200 markets and their specially-trained teams can handle organizing, packing, de-cluttering, moving, resettling, in-person and online estate sales, liquidations and preparing homes for market. Caring Transitions specializes in managing senior relocations, but the services are also perfect for busy families and individuals in need of assistance. Caring Transitions of Upstate South Carolina serves Greenville, Spartanburg, Easley, Seneca, Gaffney, Union, Clemson, Laurens, Clinton, Greenwood and the surrounding areas.
Rick said they landed in online estate sales by listening to their clients and trying to find the best way to serve the community.
"There was a need in our market for estate liquidation services, but in-person estate sales weren't working. People want to get value out of their possessions, but what they really want is a cleared house that's ready for sale. When things didn't sell, they'd look for a third party company to buy everything at a discounted rate or they'd be looking at donating or throwing everything away. We felt like we were failing our clients," Rick said.
In 2010, the Parkinsons were ready to walk away. Caring Transitions had launched the online estate sale option in 2009, and the Parkinsons were using it to promote the in-person estate sales or to list the best items, but things still weren't going well. The next year the Parkinsons decided to try one more thing – a full liquidation sale where everything was listed online.
"Having the entire sale online was a success from day one and, when people came to pick up their items, they'd often buy other things that didn't sell. Not every item we posted was worth all that much, but our clients were getting a return on their possessions AND their house was cleared. Now our entire business is online and that's how we market ourselves. It's been perfect for this community and now we've done more than 300 online liquidations," Rick said.
"Everything we do is about helping people get to their next chapter of their lives. When you can tell someone that you'll be able to have the house cleared by a specific date, you can see the relief wash over their faces. It's a powerful promise and it's a promise we're able to keep thanks to the online liquidations," he added.
Caring Transitions of Upstate South Carolina is bonded and insured and all W2 employees have been background-checked. For additional information about Caring Transitions of Upstate South Carolina, call (864)243-8805, email RParkinson(at)CaringTransitions.com or JParkinson(at)CaringTransitions.com, or visit http://www.CaringTransitionsOfUpstateSC.com.