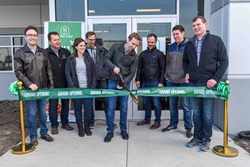 "Our secret ingredient has always been our relentless pursuit of what's best for the customer," said Pat Vihtelic, Home Chef's founder and CEO.
CHICAGO (PRWEB) March 01, 2018
Following a year that saw Home Chef, the largest private meal kit company in the United States, overtake rivals to become the third largest brand in the category, the Company continued its rapid growth. Home Chef grew its market share in the competitive meal kit category by more than 55% over 2016* and increased its revenue by more than 150% in 2017. The company also now delivers more than 3 million meals per month.
To provide the infrastructure to maintain the Company's momentum in 2018 and beyond, Home Chef moved its Midwest fulfillment center to a state-of-the-art facility in the Chicago suburb of Bedford Park, IL. The new facility serves as one of three hubs for Home Chef's meal kit production and distribution and will allow the company to even better serve their ever-increasing customer base.
In the rapidly-growing meal kit market, Home Chef has become a leader by squarely focusing on delivering the best possible cooking experience. "Our secret ingredient has always been our relentless pursuit of what's best for the customer," said Pat Vihtelic, Home Chef's founder and CEO. "Everything about our entire experience is designed with the customer at the center and, in many cases, with their direct input. We strive to make the lives of our at-home chefs easier and to give them the best possible cooking experience."
Home Chef, which leads the industry with the most recipe choices among the top three meal kit companies, recently became the first meal kit company to expand into the lunch daypart with a 5-minute salad lunch kit. The salads require no cooking and can be easily assembled at home or on-the-go in about 5 minutes. With 14 weekly menu options and flexible plans, it's easy to find something to fit your specific taste profile and schedule. Home Chef's focus on customer experience earned the company the highest rate of customer satisfaction among leading meal kit companies according to Market Force Information, an independent third-party study**.
About Home Chef:
Home Chef is the largest privately held meal kit delivery company in the U.S., with over 3 million meals delivered each month. Founded in 2013, Home Chef offers fresh, pre-portioned ingredients and easy to follow recipes delivered weekly and is designed for anyone to be able to cook and everyone to enjoy. The Chicago-based company delivers nationwide from its distribution centers in the Chicago, Atlanta, and Los Angeles areas. Home Chef was recently honored by Entrepreneur Magazine as part of the 2018 list of the Best Entrepreneurial Companies in America.
Find out more and get cooking at http://www.homechef.com.
Follow us on Twitter, Instagram and Facebook for live updates and delicious inspiration.
*Source: Second Measure - Measured by 2016 vs 2017 sales
**Source: US Grocery Benchmark Study, March 2017, Market Force Information, Inc.