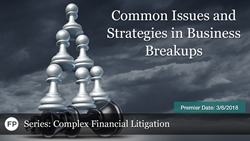 This Financial Poise webinar focuses on the realities of a failing business from the owners' perspective.
CHICAGO (PRWEB) February 28, 2018
This Financial Poise webinar series focuses on the legal and financial realities that accompany unanticipated adverse events, soured business relationships, and failing organizations. Whether you are a general litigator, business owner, aspiring shareholder, or insurance claims analyst, this webinar series will help you to understand and prioritize key concepts associated with business breakups, shareholder disputes, claims for lost profits, and bankruptcy avoidance actions.
The first episode of the series, Common Issues and Strategies in Business Breakups, airs on March 6th at 11:00 AM CST (Register Here) and features Moderator Jeff Buchakjian of Eisner Amper. He is joined by John Levitske of Ankura, John Martin of Sugar Felsenthal Grais & Helsinger, and Max Stein of Boodell & Domanskis,LLC.
As any entrepreneur will attest, starting and operating a business comes with unique challenges. These challenges are a key reason that, by some estimates, half of the companies that are founded today will not exist four years from now. It can be argued that the effort and attention needed to find success precludes business owners from planning for failure. This webinar focuses on the realities of a failing business from the owners' perspective. Join our panel of experts as they discuss the various considerations that should be given at the outset of start-up negotiations and through business breakup, including dispute negotiation and litigation.
The COMPLEX FINANCIAL LITIGATION 2018 Series is produced by Financial Poise.™ Future episodes in the series include "Nuts & Bolts of Lost Profit Cases," airing on April 10th, "Resolving Shareholder Disputes" airing on May 8th, and "Defending Against Bankruptcy Avoidance Actions" airing on June 5th. Each episode airs at 11:00 AM CST. All episodes will be available live through West LegalEdCenter and then on-demand following the live premiere.
As with every Financial Poise Webinar, each episode is delivered in Plain English understandable to investors, business owners, and executives without much background in these areas, yet is also valuable to attorneys, accountants, and other seasoned professionals. And, as with every Financial Poise Webinar, each episode brings you into engaging, sometimes humorous, conversations designed to entertain as it teaches. Each episode in the series is designed to be viewed independently of the other episodes, so that participants will enhance their knowledge of this area whether they attend one, some, or all episodes.
About Financial Poise™
Financial Poise™ has one mission: to provide reliable plain English business, financial and legal education to investors, private business owners and executives, and their respective trusted advisors. Financial Poise™ content is created by seasoned, respected experts who are invited to join our Faculty only after being recommended by current Faculty Members. Our editorial staff then works to make sure that all content is easily digestible. Financial Poise™ is a meritocracy; nobody can "buy" her way onto the Financial Poise Faculty.™ Start learning today at https://www.financialpoise.com/