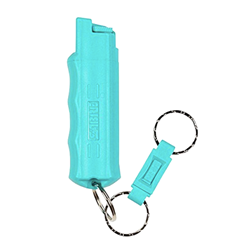 "This event is a unique opportunity for us to lend a helping hand in the #MeToo movement with solutions for stopping this harassment culture," said SABRE CEO David Nance.
CHICAGO (PRWEB) February 28, 2018
SABRE, the global leader in consumer safety products and law enforcement products, proudly sponsored the 2018 Official Red Carpet Luxury Lounge, which hosted the 2018 Oscar Nominees.
 
As an advocate for women's empowerment, SABRE is a strong supporter of the #MeToo Movement.
 
The SABRE philanthropically-aligned pepper sprays and personal alarms were selected to be included in event's exclusive "editor choice" gift bag.
The mission-driven brand supports a global initiative of empowering women, by providing life-saving, personal safety products, training, and education for women and children around the world.
 
SABRE highlighted five of their key products at the Oscar event:

Kuros! Key Case Pepper Spray -- For every spray sold, SABRE supplies women at high risk of sexual assault in a developing nation with their own pepper spray for self-defense.
Drink Test Kit -- This is a handy and discreet way to help women drink safely while out on the town.
Personal Alarm with Clip & LED Light -- This 120dB alarm attracts bystander attention and features a built-in LED light with a steady beam, slow flash, or fast flash.
Pepper Gel Kit -- This full-service kit includes a pepper gel, practice gel, target, and training video to maximize user safety.
Pink Personal Alarm -- A portion of the proceeds from every sale goes to support the National Breast Cancer Foundation.
"This event is a unique opportunity for us to lend a helping hand in the #MeToo movement with solutions that take aim at the harassment culture that's been pervasive most notably in the entertainment industry and in broader society," said SABRE CEO David Nance. "We hope to help others by inspiring self-empowerment."
 
For more information about SABRE and their products, visit http://www.sabrered.com or contact Brooke Daily at brooke(at)veteranpr.com.
About
SABRE, the no. 1 pepper spray trusted by police and consumers worldwide, is family owned and operated with four decades of experience and is the leading brand in personal safety. The company's law enforcement grade pepper sprays provide consumers with the same superior quality chosen exclusively by the New York Police Department, Los Angeles County Sheriff's Department, and law enforcement agencies worldwide. SABRE has trained 3,500 officers around the globe on the use of force and how to use pepper spray. SABRE also has a line of consumer personal alarms and home security systems and is dedicated to educating its customers to maximize their safety. SABRE's Personal Safety Academy is available through certified instructors around the world to help teach personal safety skills to SABRE users. Stay informed by following SABRE on Facebook at @sabreredpepperspray, on Twitter @SABRERed, on Instagram @SABRESafety, or by visiting http://www.SABREred.com.