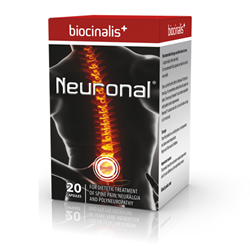 I noticed a big difference with pain reduction after around 2 weeks - enough of a difference to help me start running again
LONDON (PRWEB UK) 1 March 2018
Sciatica is caused due to irritation of the sciatic nerve - the longest nerve in the body which runs from the lower back through the buttocks and down each leg.
It is most common when one of the discs in the spine bulges or slips and presses onto the nerve.
It is estimated that 12 percent of the world's population is suffering from lower back pain and of that 12% up to 1 in 10 will have Sciatica. If these statistics are accurate and translate to the UK it means that over 750,000 people in the UK are suffering with Sciatica at any one time!
Melissa who features in series 2 episode 1 of Channel 4's "Get Fit Fast" turned to Neuronal to get her running 'back on track' after suffering Sciatic pain from a herniated disc. Despite two operations to fix it, her recovery stopped short and she was in constant pain. Within 6 weeks of taking Neuronal she was pain free and had completed a 10k. Melissa personally attributes this recovery to Neuronal.
When asked, Melissa said "I had two lots of surgery in 2017, which put a stop to my running for most of last year. Being an active person, not being able to run and exercise made me very miserable. To add to this, post-surgery I was still in considerable pain, and the recommended physiotherapy was very slow. This is when I started taking Neuronal. I noticed a big difference with pain reduction after around 2 weeks - enough of a difference to help me start running again. Earlier this year, I completed by first 10K race in over a year, and am on track with my training for a half marathon in April 2018."
Biocinalis who manufacture Neuronal in Europe state that "Neuronal is a dietetic food for special medical purposes (a supplement to accompany a balanced diet). It contains specific neurotropic ingredients. When nerves are damaged, there is an increased need for particular nutrients and nerve conduction blocks which improve the renewal processes of the damaged nerves. Neuronal® contains micronutrients, vitamins and minerals."
Neuronal contains a unique combination of nucleotides, folic acid, cyanocobalamin, thiamine, niacin (nicotinamide) and pyridoxine.
Nerve injuries may occur due to physical injuries or a lack of the essential construction blocks of the nerve tissue. Due to this, the nerves are limited in their operation, sometimes even entirely inhibited. The newest findings regarding the effects of nucleotides with added vitamins (thiamine, niacin, pyridoxine, cyanocobalmin, folic acid) indicate a significant improvement in renewal processes of injured nerves, when there is pain originating from the spine.
In the case of nerve injuries, there is an increased need for special nutrients or nerve conduction blocks like those contained in Neuronal.
Neuronal doesn't contain salt, gluten, yeast, soya or milk products. It is free from preservatives and it has no known side effects.
Director of Eureka Supplements Michael Kitt said: "We met Biocinalis at a conference in 2017 and were immediately impressed with the work that they had put into Neuronal. After they confirmed to us that Neuronal was being produced to European standards we were more than happy to pioneer the product into the UK. What amazed us more was that for a natural supplement we have seen overwhelming positivity from our customers and currently we are experiencing in excess of an 80% reorder rate!"
Find out more at: https://eurekasupplements.com/neuronal
Eureka Supplements is a Food Supplement company based in the UK focussed on high quality supplements and lifestyle products and couple that with world leading customer service.
Eureka Supplements was formed in 2017 to provide a professional range of food supplements formulated to fully comply with current regulatory requirements in the UK. Consumer safety and customer satisfaction is always at the forefront of our minds.
All Eureka products are manufactured in GMP approved premises
Eureka specialise in unique but powerful combinations like our Turmeric, Rosehip and Black Pepper combo.
Eureka regularly review their product range to ensure that they only use the best ingredients from the best suppliers.
Consumers benefit from a 30 day no-quibble refund guarantee
Consumers only ever pay a reasonable price for outstanding quality
Eureka has a dedicated customer service team available 9am to 5pm, Monday to Friday by phone & email.
Consumers of Eureka benefit from a safe and secure online shopping service.