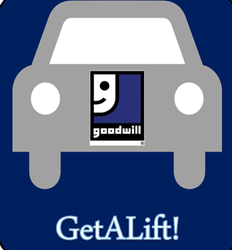 Chief Mission Officer, Catharine Fleming said, "The first couple of weeks in a new job are so important for individuals that are just starting out in the workforce. If we can assist them with something as critical as transportation, we can increase their chances of staying employed."
HAGERSTOWN, Md. (PRWEB) March 01, 2018
Horizon Goodwill has always been in the business of helping individuals who need a job obtain the training and experience necessary to get and keep a job. Now, they are taking it a step further and giving two weeks of free rides to individuals who have gone through their Get OnBoard! Job Readiness program. Chief Mission Officer, Catharine Fleming said, "The first couple of weeks in a new job are so important for individuals that are just starting out in the workforce and getting them to work is half the battle. If we can assist them with something as critical as transportation, we can increase their chances of staying employed."
Goodwill is encouraging everyone to make a real difference by rounding up your purchase at any of the Horizon Goodwill stores, and you will help someone "GetALift!" All of the "round up" proceeds from March 1, 2018, through April 15, 2018, will go directly to support the new program. CEO John McCain said, "When you shop at Goodwill, you are helping people get a job and now if you round up your purchase then you are helping them get a lift too!" All shopping proceeds are used to help fund Goodwill's job placement services, skills training, employment training and other community-based services, such as career counseling, fork-lift certification and industry-recognized credentials.
McCain said, "By Rounding Up when you shop, you can make a huge difference for job seekers in our community – finding employment is the first step, getting to work every day after that is the challenge. We are grateful for all those who shop with us and ask that you Round Up your purchases from March 1st through April 15th and give to GetALift!"
If you are interested in learning more about how you can support GetALift!, please contact Brooke Grossman, Horizon Goodwill's Associate Director of Workforce Development at bgrossman(at)goodwill-hgi.org. You can also visit our website and click the DONATE button to safely and securely give through Goodwill's website http://www.horizongoodwill.org.
By donating to Goodwill, you help open up opportunities for others looking to find a job and build skills, including veterans and military families, single mothers, seniors, youth, and many others.
Share your Goodwill round up purchases on Facebook and Twitter using the hashtag #GetALift!
About Horizon Goodwill: Goodwill has been rated #1 above the global brands Amazon and Google for the Brand World Value Rankings for 2016. Horizon Goodwill Industries, whose mission is "Removing Barriers, Creating Opportunities," is a non-profit organization dedicated to ensuring that all people have access to employment despite significant obstacles. Horizon Goodwill serves over 7,000 clients annually in a 17-county region that includes parts of the states of Maryland, Pennsylvania, Virginia, and West Virginia. For more information, please visit http://www.horizongoodwill.org.