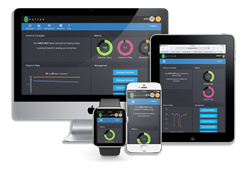 One of the most remarkable results of this program is that it rebuilds trust with the family, friends, and employers.
ATLANTA (PRWEB) March 07, 2018
Hayver, the company that takes a novel approach to the care of those suffering from drug addiction and alcoholism, announces today the launch of its mobile platform that uses behavior modification to address one of the world's largest health epidemics. Hayver's software solution is based on a methodology that works; it is a simple-to-use drug and alcohol verification system that requires daily check-ins and random urine screens, while providing a real-time look into the recovery progress of those suffering from alcoholism and drug addiction. The new mobile platform incorporates the blockchain technology by creating a flexible open architecture and cryptocurrency incentives.
About 21 million Americans suffer from drug and alcohol addiction. To put this into perspective, about 15 million Americans currently suffer from all forms of cancer combined. Deaths in the U.S. resulting from alcohol and drug misuse total more than 135,000 each year, making it the number one killer of Americans under the age of 50. Like other chronic and fatal diseases, drug addiction and alcoholism can be managed, although relapse is not uncommon.
Hayver's strategy is centered around new research that demonstrates the detrimental effects of alcohol and drugs on the brain, and the brain's subsequent repair following a period of drug and alcohol abstinence. The company's methods are based on well-tested and proven methods in professional programs for physicians and pilots that help about 78% of participants remain clean even after five years. In order to build on this success rate, Hayver is launching its own reward cryptocurrency, the Duitcoin. The Duitcoin will be used to incentivize Hayver customers who engage in behaviors that are conducive to recovery. The symbol of the Duitcoin, representing heroic courage, will be used to help dispel the stigma of addiction.
Hayver has built its software on the social infrastructures of the drug and alcohol recovery community. A peer group of 5-20 individuals (the Circle of Support) helps the person suffering from addiction (the Member) embrace a sober lifestyle. Each day, the Member logs into the Hayver application. A randomization utility determines whether the Member is to be tested; and, if so, the Circle of Support is notified. Members selected for testing use a urine screening cup. The results are then verified by one of the Member's Circle of Support partners. The platform tracks the Member's check-in rates, test compliance and results, and other behaviors, and generates a score to reflect the Member's success in using the software.
Hayver brings to everyone (not just doctors and pilots) a well-proven method that combats alcoholism and addiction. Besides offering a multilingual platform that will incorporate blockchain, Hayver is the first system in the world that provides the following:

Assessment tools for persons who are relying on home care
Encouragement to continue platform use notwithstanding relapses
Continuous and affordable peer-to-peer monitoring
Peer-to-peer support
Objective algorithmic scoring correlated to successful use of the platform
Outcome measurement capabilities
With the coming addition of cryptocurrency incentives, Hayver expects to be the world's premier provider of software solutions for the drug and alcohol recovery community.
"Hayver is committed to leading people who are 'at the end of their rope', to a potentially better place. One of the most remarkable results of this program is that it rebuilds trust with the family, friends, and employers", says Dr. John M. Copenhaver, Co-Founder and Chief Medical Officer of Hayver Corporation. "Our program 'helps guard against slip-ups after recovery from one of the biggest diseases worldwide, a disease afflicting nearly 110 million people. With Hayver, we are using proven psychological methods to accelerate the recovery from fatal addictions, amongst them are alcoholism and drug addiction. Physicians, therapists and counselors have already realized the potential of Hayver, and decided to implement the system in their patients' recovery process, reinforcing sober behavior in the short-term as they build towards the long-term perspective."
ABOUT HAYVER
HAYVER provides a revolutionary, first-of-its-kind verification technology to monitor those suffering from drug addiction or alcoholism, to help ensure they are drug-free and alcohol-free. With daily check-ins, a unique Circle of Support (an accountability group), and random urine screens, and, soon, cryptocurrency rewards to incentivize healthy behaviors by Hayver users, Hayver helps people stay clean and improve their long-term recovery success.
Contact Info:
Barry Hayut, Co-Founder, CEO
BHayut(at)Hayver.com
Phone number: 678-701-9122
John M. Copenhaver, MD, Co-Founder, Chief Medical Officer
JCopenhaver(at)Hayver.com
Phone number: 1-844-874-4226