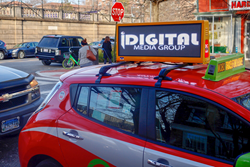 Taxis Go Where People Go. Taxi covers hip & trendy areas, Residential, Financial Areas, Downtown & The Airport.
WASHINGTON, DC (PRWEB) March 06, 2018
iDigital Media Group, LLC., connector of brands with consumers through out of home advertising, today announced its collaboration with the Department of For-Hire Vehicles (DFHV) to be an approved vendor to develop, operate and maintain a citywide taxicab rooftop advertising program.
Through this joint effort iDigital Media Group will gain access to a fleet of over 4,500 taxis throughout Washington, D.C. iDigital's Taxi Top technology allows advertisers to engage with consumers on a more granular level…on the street. iDigital achieves this with 42-inch LED 2-sided taxi top mobile digital billboards, called iDigital Taxi Tops, that have received more consumer engagement than similar television advertising, according to independent research firm Next Century Media.
This technology gives unprecedented access to information on advertising campaigns. Not only can ads run when and where wanted but the advertiser can receive a report detailing that information. iDigital Taxi Tops can also provide community building information that brings more attention to this innovative advertising platform. Stock updates, Traffic reports, time and temperature, football scores and even basic news headlines can be broadcast to iDigital Taxi Tops throughout the iDigital network.
"We are thrilled to be chosen by DFHV as one of the advertising partners for its taxi top program, said Sidney Shelton, CEO of iDigital Media Group. iDigital Media Group is committed to bringing its clients the most effective and innovative advertising tools the industry has to offer, and this is another example of how we plan on making that happen."
Advertisers benefit from iDigital's flexible options which include static advertisement when the taxi is traveling a pre-defined location and targeted advertising via GPS allowing for micro targeting down to the city block or zip code as needed by the advertiser. Using iDigital's technology, advertising can be rotated effectively, no man power needed to manually replace ads, nor losing time on advertising campaigns due to inclement weather keeping workers from changing signs out.
About iDigital Media Group
We're a small agency that moves quickly, with a big vision. Give us your advertising objectives and we will devise and execute a strategy. A strategy to elevate your brand above the competition using pioneering state-of-the-art technology. We combine years of out-of-home advertising experience with digital prowess to provide the latest evolution in outdoor advertising, enabling our clients to reach their audience in a variety of effective and engaging ways. Harnessing technology that can respond to factors such as time and location, our team of highly experienced innovators guarantee high impact and extensive exposure, delivered direct to your target market.