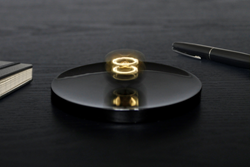 NEW YORK (PRWEB) February 28, 2018
Hedra, the team behind Halospheres, is introducing a desktop toy that combines lightning-fast speeds with unique, captivating light effects. Its distinct process allows users to accelerate Halospheres to speeds in excess of 3600 RPM all by simply blowing on the device. Halospheres launched on Kickstarter with a $12,000 funding goal.
Affably referred to as "a spinning top on steroids" by project creator Kent Blazek, Halospheres showcases mesmerizing halos at exhilarating speeds in just a few easy steps. Users start by manually spinning the Halospheres on its plate. Next, by blowing into the steel nozzle, an additional force is then created to accelerate the spheres. Once the angle is just right, users can see Halospheres reach speeds over 3600 RPM.
The reflective properties of the spheres - at speed - blend together to create a double-halo effect from any significant light source (windows, lamps, flashlights, etc.). Each light source creates an additional set of halos, which creates the engaging and captivating distraction that is Halospheres.
By exhibiting gravity-defying physics, Halospheres expertly sets itself apart from other desk toys. As the spheres spin on their center axis on the plate, they also roll like a wheel, generating a lift force on one half of the Halospheres as it moves through the air, known as the Magnus effect. It utilizes this effect, and combines it together with high angular momentum, a low coefficient of friction from its rolling motion, and an intense applied outside force by way of air through a nozzle, to achieve its extreme velocity.
The spheres themselves are first cast from stainless steel and then polished to a mirror finish, ultimately plated with real gold, which creates the signature halo hue. They are accompanied by a concave-shaped spinning plate hand cast in black resin. Each of these parts results in a perfect pairing for both performance and aesthetics.
Early supporters can take advantage of purchasing Halospheres starting at $30. To learn more, visit the campaign at bit.ly/HalospheresKS.
About Hedra
Hedra is product development house, focusing on creating solutions and products that innovate or simply create a little more joy in people's lives. To learn more, visit http://www.halospheres.com.