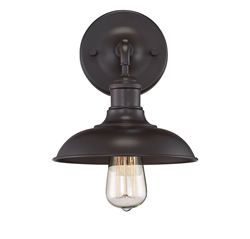 "These savings are passed on to the consumer because we as a manufacturer of Trade Winds are selling directly to the consumer through Amazon Prime instead of wholesaling it to a retailer who then marks up the price." -Steven Pope, Marketplace Director
ATLANTA (PRWEB) March 02, 2018
Buy Trade Winds Lighting Fixtures on Amazon Prime. It's time to update your house, but you don't want to spend thousands of dollars on new lighting fixtures? Trade Winds Lighting is a great option for price conscious consumers who want a great looking light, but at a fraction of a cost.
"These savings are passed on to the consumer because we as a manufacturer of Trade Winds Lighting are selling directly to the consumer through Amazon Prime instead of wholesaling it to a retailer who then marks up the price," explained Marketplace Director Steven Pope. Utilizing the Prime program at Amazon consumers can get new lighting for their home in 2 days.
Take an item such as a bronze sconce (see picture) - most lighting retailers would sell this for close to $100 plus shipping. Trade Winds has this item for $45 and free 2 day shipping through Amazon. So you can buy it at a marketplace where you already shop at a convenience.
"The average lifespan of a lighting fixture is 10 years. And while everybody needs lighting, it's overwhelming to remodel. So homes get stuck with decades old lighting fixtures. Our bright idea was to get fashionable new lighting directly in the consumers hands through a platform they are already familiar with, Amazon. And make easy to install lighting fixtures with guaranteed delivery," said Pope.
Trade Winds Lighting are engineered by lighting experts and have a 1-year manufacturer warranty. Many of the designs focus on an industrial look, others on more traditional elegance. Trade Winds lights are inspired by today's hottest trends and feature details like natural elements, sleek finishes and thoughtful touches. Whether you are looking for your new favorite chandelier or the perfect bathroom vanity lighting, you are sure to find the perfect fixtures to complement and complete your space.
Trade Winds Lighting Fixtures in:
Sconces (Wall Lamps)
Pendants
Flush Mounts
Fans
Chandaliers
Bath Bars
To find Trade Winds Lighting items all you have to do is visit Amazon and search for "Trade Winds Lighting". Every item is deliverable within 2 days of purchase. Making it easier for consumers to schedule their installs, whether they do it themselves or hire an electrician.
Trade Winds is exclusively sold by Lights Online, the manufacturer.