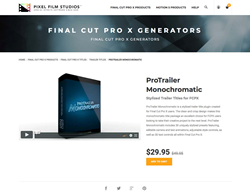 A FCPX Plugin with stylized trailer titles tailored to a crisp monochromatic design!
ALISO VIEJO, Calif. (PRWEB) March 01, 2018
ProTrailer Monochromatic is a stylized trailer title plugin created for Final Cut Pro X users. The clean and crisp design makes this monochromatic title package an excellent choice for FCPX users looking to take their creative project to the next level. ProTrailer Monochromatic includes 30 uniquely stylized presets featuring, editable camera and text animations, adjustable style controls, as well as 3D text controls all within Final Cut Pro X.
A key feature of this plugin is the built in keyframe-less text and camera animations, making the editing process of any title sequence extremely simple. As a result, ProTrailer Monochromatic provides users the ability to create titles for any project at hand.
ProTrailer Monochromatic comes with a built in Edit Mode to keep users working efficiently when editing camera and text animations. With the addition of Edit Mode, users have the ability to smoothly alter text animations while viewing the result in real time. The Monochromatic series of 3D titles make use of the familiar and user-friendly camera controls featured in other ProTrailer plugins. Simply adjust the camera framing points to add movement to any title sequence. Combine text animations in conjunction with camera movement to create more dynamic 3D title sequences.
This plugin's clean and crisp design is great for a variety of different projects and allows for dynamic tailoring to each user's specific vision. In addition, users are able to freely blend the included 18 different background options, and 4 gradient backgrounds to generate additional customization options for the user's current project. As a result, ProTrailer Monochromatic offers control over every aspect of the title sequence.
ProTrailer Monochromatic was designed with Final Cut Pro X users in mind. Intuitive controls provide users the with the ability to jump into any project with confidence and style. Limitless creative opportunity is within ProTrailer Monochromatic!
Established in 2006, Aliso Viejo, California-based Pixel Film Studios is an innovative developer of visual effects tools for the post-production and broadcast community. Their products are integrated with popular non-linear editing and compositing products from Apple FCPX. Apple, the Apple logo, Mac OS X, and Macintosh are registered trademarks of Apple Inc. in the U.S. and/or other countries. All other trademarks and trade names are the property of their respective owners.