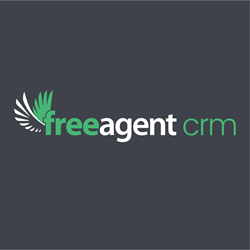 Our passion is to help small businesses that already have great products get great at sales.
SARATOGA, Calif. (PRWEB) February 28, 2018
FreeAgent CRM, the CRM that helps small businesses grow sales big, today announced that it has raised $5.6M in seed financing. Investors include BlueRun Ventures as well as technology leaders such as former Oracle EVP Ron Wohl, and ServiceNow EVP of Worldwide Sales Kevin Haverty.
FreeAgent CRM's CEO Dave Stephens plans to use the new capital to accelerate R&D and expand its sales & marketing team to reach the company's target market - small companies with big ambitions. "Unlike other CRM entrants, we're not out to dethrone Salesforce," Stephens said. "Our passion is to help small businesses that already have great products get great at sales. We're delivering the system I wish I'd had when I founded my first startup."
That first startup was Coupa Software, now a $2B publicly traded company. So, Stephens is no stranger to the startup scene. He's also harnessed his entrepreneurial spirit inside larger enterprises, building out new lines of business as an executive at tech behemoth Oracle and enterprise cloud leader ServiceNow.
"What CRM your business uses is incredibly important," added FreeAgent CRM Chief Strategy Officer, Ryan Manning. "With ours, managing sales is 10x more productive, which means you win more business and make more money."
FreeAgent CRM's cloud-based service can be set up in minutes, includes a free trial, and is priced at $29 dollars per user per month in the US and Canada or $499 pesos per user per month in Mexico. Customers describe it as the easiest to use, simplest to setup, and most complete CRM for small business.
Easiest to Use
Because small businesses have zero time to learn how to use a new system, FreeAgent CRM offers an incredibly intuitive user interface that eliminates manual work at every turn.
"I've used Salesforce and a bunch of other CRM, and FreeAgent CRM is by far the easiest. It's not even close. I love the email integration, the in-app calling, and especially the way it automatically records everything while we just keep doing our jobs." said Ajay Chawla, CEO of GroupClique.
Simplest to Set Up
Small businesses don't have time or money to burn implementing a CRM. They want to get value right away. With FreeAgent CRM that's just what they get. A simple 8-step guided setup gets businesses up and running in minutes. And product specialists are available to chat online with when you need help.
"FreeAgent CRM built setup help right in. I chatted with a product specialist when I had questions, and was up and running 30 minutes after I signed up." said Jonathan Jones, Owner of Jones Search Group.
Most Complete for Small Business
Small businesses move fast by keeping things simple. Having separate systems for sales and marketing is too slow and costly. FreeAgent CRM does everything a small business needs by tracking prospects, leads, accounts and deals in one platform.
"It's great to be able to send batch emails using rich custom templates. And being able to track metrics like open rate and clicks is wonderful. Very rare to see these marketing capabilities available in a sales platform." said Loren Baker, Founder of Foundation Digital.
We're a talented team of software professionals passionate about helping small business grow sales big. Headquartered in Silicon Valley, we also have a large presence in Guadalajara, Mexico. We provide small business a powerful sales CRM that is very easy to setup and use. Customer satisfaction has always been and will always be our first priority.