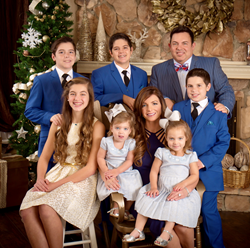 "Our priority is providing gentle, trusted dental care and treatment that meets our patients' needs and fits their budgets," explains Dr. Riccobene. "We're excited to bring personalized dentistry to our new neighbors in Clemmons."
CLEMMONS, N.C. (PRWEB) March 01, 2018
Riccobene Associates Family Dentistry, North Carolina's premier multi-specialty dental practice for the entire family, will open its first office in Clemmons on March 14th, 2018. The office will be located at 4168 Clemmons Rd, Clemmons, NC 27012, and can be reached by calling (336) 283-4598.
Riccobene Associates Family Dentistry, founded by Dr. Michael Riccobene in 2000, prides itself on its patient-centric care, state of the art dental technology, and commitment to ongoing education for its entire dental staff. Building on these values, Riccobene Associates has grown from one to sixteen locations, earning "Best Dentist in Wake and Johnson Counties" awards from Angie's List and Cary Magazine for more than 10 years.
"Our priority is providing gentle, trusted dental care and treatment that meets our patients' needs and fits their budgets," explains Dr. Riccobene. "We're excited to bring personalized dentistry to our new neighbors in Clemmons."
The Clemmons office of Riccobene Associates will focus on comprehensive dental care, including general dentistry, cosmetic dentistry, hygiene services, bridges and dentures. Additionally, patients who need specialty care will have access to the full suite of services Riccobene Associates Family Dentistry provides including orthodontics, oral surgery, pediatric dentistry and endodontics.
Dr. Kate Stanton, will be the lead dentist at Riccobene Associates Family Dentistry, Clemmons practice. Dr. Stanton believes that every patient is unique. The team is committed to working together with patients to achieve their goals in a comfortable, friendly and professional environment. Dr. Stanton earned her Doctorate in Dental Surgery at the University of North Carolina at Chapel Hill School of Dentistry. She also completed training in the Baby Oral Health Program at UNC and looks forward to seeing patients of all ages. She is a member of the American Dental Association, North Carolina Public Health Association, Forsyth County Dental Society and the Blue Ridge Dental Society. Dr. Stanton is excited to be a part of the Riccobene Associates practice and looks forward to being the family dentist for the Clemmons Community.
For additional information, contact:
Jeff Kovatch
Director of Marketing and Development
Riccobene Associates Family Dentistry
jeff.kovatch(at)brushandfloss(dot)com