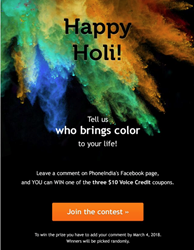 "Who brings color to your life?" Anyone who leaves a comment on PhoneIndia.com Facebook page can win up to 806 international calling minutes to landlines and mobiles in India.
ATLANTA (PRWEB) March 01, 2018
Indian expats are welcome to join the Holi contest on PhoneIndia.com Facebook page starting March 1, 2018. The contest prizes consist of 3 Holi coupons of $10 Voice Credit each. One winning coupon can be used for calls to India and equal to 806 minutes, or a different number of minutes when calling other destinations in the world. The challenge is simple. One needs to leave a comment answering the question "Who brings color to your life?" on the Facebook page of the India expat community powered by PhoneIndia: https://www.facebook.com/PhoneIndia/
For Indian expats away from home, Holi is more than a spring festival. Since Holi is celebrated by over 15 million Indians outside the country, it became an ethnic bridge with their home culture. And as the popularity of the holiday increased among India fans of other nationalities, Holi is also a moment of national pride and heritage. PhoneIndia.com supports Indians with expat telecom services on this special occasion.
The contest on Facebook powered by PhoneIndia.com, will bring the 3 winners Voice Credit balance that never expires for their international calls. They will be picked randomly on March 5, and will receive 806 minutes to call landlines or mobile phones in India. Voice Credit can also be used to call other destinations than India, at the rates advertised on PhoneIndia.com.
The regular rate to call India using Voice Credit is 1.2 cents/minute in USD. But the best rate is 0.7 cents/minute. The lowest rate is available using any of the two monthly plans: India 1400 or India 3000. The former comprises 1400 international minutes to both landlines and cellular phones in India, while the latter 3000. The plans are flexible, they can be upgraded, downgraded or deactivated anytime necessary without any penalty.
The advantages of using Voice Credit over a plan is that Voice Credit never expires, one can use it to connect to other calling destinations than India, and one can send SMS as well. But for those making regular calls to India, a plan is the way to save on their bill.
Making calls using PhoneIndia balance (Voice Credit or a calling plan) is possible in two different ways:

KeepCalling app is free to install on any Android or iOS device.
Those willing to call without WiFi or cellular data can choose an access number in their area.
Loyalty points are a constant way to gain credit with PhoneIndia.com, besides regular Offers that are sent by email. That requires to be subscribed to get the spam-free Newsletter.
Besides calls, PhoneIndia.com also makes available mobile top ups for mobile phones in India. The process takes place online in less than one minute, and the credit gets to the family member or friend in India immediately.
PhoneIndia.com is a platform created for the Indian diaspora, that offers calling credit for Indians abroad and facilitates top ups to mobiles in India. It is a brand of KeepCalling, which is a global telecommunications company registered in 2002 in the USA, listed by Inc 5000 as one of the fastest growing companies in the USA for 5 consecutive years. Presently, KeepCalling provides its services to hundreds of thousands of consumers , with a focus on customer satisfaction. In 2015 the company registered a revenue increase of over 200% from 2011 to 2014.