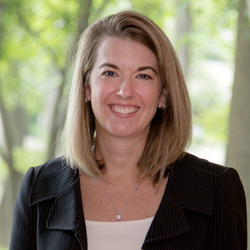 FAIRFAX, Va. (PRWEB) March 05, 2018
Three Wire Systems, LLC (Three Wire) is proud to announce Kitty Nix, Senior Vice President of the Services Division, has been selected to participate in the American Council for Technology-Industry Advisory Council (ACT-IAC) 2018 Partners Program class. The nine-month program is designed to collectively engage, develop and prepare for future roles such as the senior executive service (SES) and corporate executive officer levels.
"I have always gained invaluable perspective when attending ACT IAC events and conferences. I am thrilled to take it to the next level by participating in this incredible leadership program that brings together leaders from Government and Industry to learn from each other," shared Nix after being selected for this year's premier executive development program for her individual professional leadership accomplishments and her potential for future advancement. At Three Wire, Nix provides oversight to the Services Division focused on IT modernization, application development, and behavioral health coaching programs.
"With 22 years of experience in consulting, business development, and human capital management, Kitty brings valued experience and reliable professionalism to our organization," said Dan Frank, CEO, Three Wire. "We are excited to support Kitty through the prestigious program and look forward to what she will be able to bring back to Three Wire."
The first and only of its kind, the ACT-IAC Partners Program provides an open and trusted partnership between 13 government and 13 industry professionals. Nominations for the 2018 Partners Program participants were made by their respective government agency or company sponsors, and evaluated by a panel of government and industry executives on leadership accomplishments and potential for future advancement within their current organization.
Industry Chair of the 2018 Class, Atacan Donmez shared, "As a 2011 graduate, I can attest to the power of the program in helping shape my career and long-lasting partnerships between industry and government leaders. I am looking forward to working with the 2018 class to explore ever more effective ways to tackle our shared challenges in the federal government technology space."
The program's welcome reception is Thursday, February 22 at the Gryphon in Washington, DC.
For more information about Three Wire Systems, visit http://threewiresys.com/. For more information about the ACT-IAC Partners Program, please visit https://www.actiac.org/.
About Three Wire Systems
Founded in 2006, Three Wire is the leader in innovative and efficient technology solutions for government agencies and large enterprise corporations. With solid program management and process improvement principles, they design solutions that support business goals and deliver superior results in a cost-efficient manner. Three Wire believes in maximizing investments American taxpayers have already made in the government and military, while modernizing and securing America's most important information, infrastructure, and assets. For more information about Three Wire, visit https://www.threewiresys.com/.
About ACT-IAC
Established as a non-profit educational organization, the Advancing Government Through Education, Leadership and Collaboration The American Council for Technology and Industry Advisory Council (ACT-IAC) works to improve government's service delivery and operational performance through the effective and innovative application of technology. ACT-IAC provides a collaborative forum where government and industry executives works as partners to address critical issues, apply best practices and pioneer innovative solutions. ACT-IAC also provides high-quality learning and educational opportunities to improve the knowledge and expertise of the government workforce. Further information about ACT-IAC can be found at http://www.actiac.org. Media Contact: John Lee, jlee@actiac.org, (703) 208-4800, ext. 227