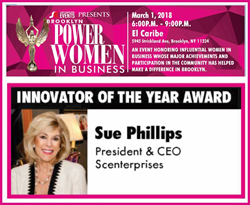 NEW YORK (PRWEB) March 01, 2018
Sue Phillips, CEO of Scenterprises Inc., & The Scentarium, a bespoke perfumery in Tribeca, is being awarded Innovator of the Year at The 28th Annual Power Women in Business Event on Thursday, March 1st at El Caribe in Brooklyn New York from 6-9PM. This Event celebrates some of the most influential and notable individuals in Business, honoring them for their continued success and achievements. As Innovator of the Year, Sue Phillips has spearheaded fragrance brand initiatives and "experiences" with some of the largest businesses in the world such as AOL, American Express/Zurich Financial, GOOGLE, Lincoln Navigator, Merrill Lynch, Wells Fargo and hundreds of others. A recent graduate of the prestigious Goldman Sachs 10kSmall business, Sue's mission is "to take fragrance OUT of the bottle and to create magical fragrance products and experiences for clients…drop by drop." Sue is a true Scentrepreneur®
About Sue Phillips
Phillips has extensive experience consulting with brands, helping them create their own perfumes, and has worked for leading fragrance companies, holding executive positions at Elizabeth Arden, Lancôme Paris, and Tiffany & Co. As Vice President of Tiffany & Co, she created "Tiffany," and "Tiffany for Men," and as General Manager for Royal Brands she created "Society" by Burberry, and "Burberry for Men" fragrances. Sue also developed the original three eponymous Trish McEvoy fragrances, and has developed brands for Avon, Diane Von Furstenberg, Lancaster and many other fragrance initiatives. She has appeared on HSN and TV discussing fragrance trends, and is a leading fragrance expert and adjunct Professor at LIM College. Sue has worked with researchers and Professor Rudy Tanzi at Harvard Medical School on the role of scent in memory, attraction, and emotions in individuals.
About The Scentarium
Sue Phillips opened The Scentarium in TriBeCa in 2014 - a luxurious jewel-box perfumery and an 'oasis' in the heart of the city, where you can create your own personalized scent. Sue walks you through the entire perfume-making process, from taking her olfactory personality quiz to guiding you on a 'fragrance journey' to discover original and exquisite scents to help you create the perfect "bespoke" fragrance for you. Ideal for men and women.
The Scentarium has been visited by A-list stars and celebrities including Jamie Foxx, Katie Holmes, Zendaya, Dirk Nowitzki, and Fortune 500 Clients. Recently featured in The New York Times and O Magazine, Sue Phillips has grown her business by providing personalized attention and delightful custom fragrances to individuals and groups seeking a unique and memorable experience
Media Inquiries:
Tammy Fellus: tammy(at)heraldpr.com;
Jillian Mushman: jillian(at)heraldpr.com