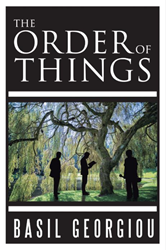 PERTH, Western Australia (PRWEB) March 05, 2018
An Australia-based lawyer and writer has released a novel that takes the reader back to South Africa's apartheid era.
In "The Order of Things," author Basil Georgiou, who grew up in South Africa during apartheid, weaves together the gripping stories of an Afrikaner, an English immigrant and a black man whose parents work as farm labourers, as each character tries to forge his destiny.
Inspired by Georgiou's own observations of apartheid-era South Africa, "The Order of Things" juxtaposes the journey of its white characters, Marius Strydom and Neil Robertson, who enjoy the privileges of their skin colour, with the challenges faced by its black protagonist, Jeremiah Ngubeni, who experiences a different, repressive South Africa.
"Despite being a descendant of migrants, I was afforded a way of life that was denied to the descendants of the ancient tribes of Africa," Georgiou said. "Without being judgemental, I wanted Marius and Neil to take the reader inside the homes of white South Africans, and for Jeremiah to give us a taste of what it was like to grow up as a black South African during apartheid. I wanted to tell the story through their eyes and their hearts."
"Carefully plotted and honestly written family saga set against the backdrop of South African apartheid," an Amazon customer wrote in a five-star review of the book. "The novel is very much concerned with the social realities of the era, however the prose is never hyperbolic or polemical, and the narrative distance remains intimately close to the central characters."
"The Order of Things"
By Basil Georgiou
ISBN: 978-1-5043-0820-5 (paperback); 978-1-5043-0821-2 (electronic)
Available at the Balboa Press Online Bookstore, Barnes & Noble and Amazon
About the author
Basil Georgiou was born in 1956 in South Africa. After studying law, Georgiou joined the Johannesburg Bar. Since 1986, he has resided in Perth, Western Australia, where he continues to practise law. To learn more, please visit http://www.basilgeorgiou.com.
###
Review Copies & Interview Requests:
LAVIDGE – Phoenix
480-648-7557
dgrobmeier(at)lavidge(dot)com
General Inquiries:
LAVIDGE – Phoenix
480-998-2600 x 584
mdriver(at)lavidge(dot)com