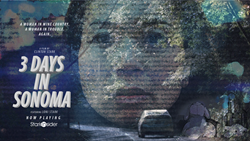 ... what if underneath the soaring Redwoods and serene Pacific Ocean, there was something deeper and mysterious?
SAN FRANCISCO (PRWEB) March 01, 2018
Blue Lizard Group, LLC today announced that 3 DAYS IN SONOMA has been officially released to the public. The 25-minute short film can now be streamed on Amazon Prime.
Shot over a 5 year period, 3 DAYS IN SONOMA is a unique project in that it combines classic elements of vérité — documentary-style footage shot on location — with scripted narrative.
"We wanted to tell the Sonoma story in a fresh, if unconventional way", says Clinton Stark, a Canadian filmmaker based in San Francisco. "California's coastal wine region is astoundingly beautiful, but what if underneath the soaring Redwoods and serene Pacific Ocean, there was something deeper and mysterious?"
The story centers on a "Woman in Trouble" (Loni Stark) who books an Airbnb to "ESCape" the stress and everyday demands of working in Silicon Valley. Her goal is to paint, but soon she finds forces inhibiting her ability to attack the canvas with conviction. Symbolism, montage and unexpected twists and turns mark her journey which begins, innocently enough, shopping for a hat.
"My memories of wine country evoke feelings rather than physical details… vineyards, barrels, dirt. This labor of love is our answer to, 'How do you capture the essence of wine country in a film?'" says Loni Stark, executive producer.
3 DAYS IN SONOMA features landmark locations across Sonoma County including the Pacific Coast, Healdsburg Plaza, Sebastopol and several wineries including DeLoach, Carrozzi, Moshin and Dutton Estate.
In addition to 3 DAYS IN SONOMA, Clinton and Loni Stark have produced several other short films, documentaries, and BTS backstage featurettes. Recent projects include CRAZY OR DIE (2017), WHO IS STARK INSIDER? short film collection (2017), BACKSTAGE: LUZIA BY CIRQUE DU SOLEIL (2016), TREEBONES (2015), and the landmark WRONG'S WHAT I DO BEST (2014) shot at the San Francisco Art Institute.
3 DAYS IN SONOMA
A short film.
Director: Clinton Stark
Executive Producer: Loni Stark
Tagline:
A woman in wine country. A woman in trouble. Again.
Summary:
When a cameraman forgets to push record and mercilessly gives her impossible direction, A Woman in Trouble plans an epic "ESCape" to wine country.
Amazon Prime:
Amazon Prime
Press Images:
Press Images
About Stark Insider
Stark Insider is a San Francisco-based arts and entertainment web site that reaches 1 million readers per year. Clinton and Loni founded Stark Insider in 2006 to share their passion for tech and the arts, and their first hand experiences at events across the San Francisco Bay Area. In addition to regular articles and videos published by the Starks, key contributors include Ilana Walder-Biesanz (theater), Jeanne Powell (film), and Jeanice Nieder (travel).