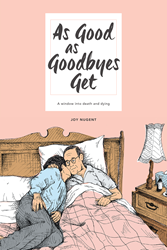 ADELAIDE, South Australia (PRWEB) March 05, 2018
An experienced palliative care nurse has published a stirring compilation of her former patients' stories that intertwines her own experiences working in the medical field with her observations of others as they faced the end of their life.
In "As Good as Goodbyes Get: A Window into Death and Dying," author Joy Nugent, who has more than 30 years of experience working in palliative care, presents a deeply spiritual examination of what it means to die and advocates for the recognition and discussion of the soul's ultimate journey as a person seeks a sense of peace and completion in their final days.
"For more than three decades I was a student at the bedside of people who were dying," Nugent said. "It is my belief that, in order to live a fuller and more meaningful life, we need to become more open in our conversations about death and dying. This belief has the potential to lead a person to die with confidence and faith in a cosmic purpose rather than fear of the unknown."
"Joy Nugent presents a wealth of life-long learning and empathetic understanding of patients' needs in her book 'As Good as Goodbyes Get: A Window into Death and Dying,'" an Amazon customer wrote in a five-star review of the book. "Having studied Eastern and Western philosophies on the subject matter, she brings her compassionate nursing skills to palliative care."
A celebration of the life lessons Nugent learned from her patients, "As Good as Goodbyes Get: A Window into Death and Dying" offers readers a non-threatening bridge to the process of dying with confidence and without fear.
"As Good as Goodbyes Get: A Window into Death and Dying"
By Joy Nugent
ISBN: 978-1-5043-0613-3 (paperback); 978-1-5043-0614-0 (electronic)
Available at the Balboa Press Online Bookstore, Barnes & Noble and Amazon
About the author
Joy Nugent received training in nursing and midwifery in Australia and Scotland and has worked as a nurse in Toronto and London. Nugent pioneered a private nurse practice specializing in home-based palliative care and is the founder of the NurseLink Foundation. She is also the author of "My Way: One Nurse's Passion for End of Life" and is in the process of publishing a third book, "Parting the Veil: Reflections on Soul." Nugent currently resides in Adelaide, South Australia. To learn more, please visit http://www.joynugent.com or http://www.joynugentbook.com.
Review Copies & Interview Requests:
LAVIDGE – Phoenix
480-648-7557
dgrobmeier(at)lavidge(dot)com
General Inquiries:
LAVIDGE – Phoenix
480-998-2600 x 584
mdriver(at)lavidge(dot)com