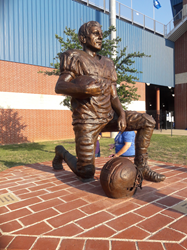 JOSHUA, Texas (PRWEB) March 01, 2018
Aaron Singleton, a fifteen year old football player at Joshua High School in Joshua, Texas, was tragically killed in a very unfortunate football accident a little over a year ago. This project was extremely powerful and had so much inspiration behind it. The project started by six of Aaron's fellow students who wanted to come up with a way in which everyone, for years to come, could honor and remember Aaron. That was when they decided to raise money to have a custom bronze statue made of Aaron in his football uniform to be placed right outside of the football stadium.
The statue is placed outside the stadium so that not only the students can enjoy and pay tribute to this marvelous statue, but also the general public and the entire Joshua community. Since the statue has been installed, the six students have also expended this memorial to honor other students show have past away during their years of attending Joshua High School. This statue is a wonderful way to provide honor to Aaron and his family, as well as healing to the community.