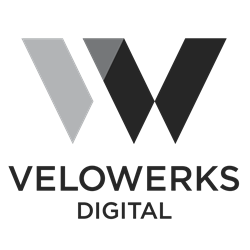 Today's marketers have many digital battlefronts from web, mobile, social, IoT, data to machine learning.
SAN FRANCISCO (PRWEB) March 01, 2018
VeloWerks Digital, a digital effectiveness agency, is excited to formally introduce themselves to the world. Over the past 18 months, VeloWerks has been building a foundation of clients and service offerings.
The founders, Robert Balmaseda and Michael Lee, both have deep experience and accomplishments on the agency side as well as previously been partners of a past agency that was acquired. They created VeloWerks to help brands create digital marketing solutions that are not only effective but also rational in the approach that best fits each organization's unique landscape. They believed there was a better approach to combining insights, data, strategy, creative and technology into a unique process that melds multiple disciplines into a seamless stream of ideas and efficiencies - allowing creativity and innovation to shine.
"We are really excited about what VeloWerks offers to brands and organizations" said Robert Balmaseda, President. "Being around the block, we have seen the positives and negatives of the agency space and we wanted to provide an offering that was different in its approach. Technology is just as and sometimes more critical today to creating great experiences. It is difficult for brands to unpack the crowded space and that's what we love doing - bringing simplicity to difficult challenges."
The VeloWerks team consists of talent that are extremely talented, have experience with the largest brands in the world but also have worked together for over a decade. This closely-knit group have been in the trenches and know how to create ground breaking digital marketing solutions quickly and efficiently.
"Today's marketers have many digital battlefronts from web, mobile, social, IoT, data to machine learning." explains Michael Lee, EVP/Partner. "However, their budgets haven't expanded as a result. Thus, the challenge lies in how to do more with less. VeloWerks can assist in helping lead brands along this path to determine how to be omni-present yet efficient and rationale in the strategic approach."
In their first year, VeloWerks was recently awarded 6 Ava Digital awards for their work - which includes 2 platinum and 4 gold awards for their work with clients, Umbra 3D and Team Rubicon.
About VeloWerks Digital
VeloWerks is a digital effectiveness agency. We create engaging digital experiences by skillfully combining a blend of rigorous strategy practices, extensive digital-marketing experience, powerful creative solutions, and unparalleled technology smarts. At our core, we believe in giving our clients maximum value by focusing on business results and delivering rational solutions to complex problems. Follow us on Facebook, Twitter or visit VeloWerks.com.