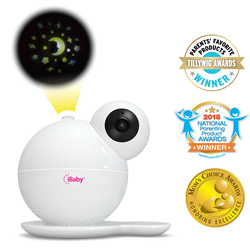 We couldn't be more excited and thrilled to earn all three awards that exalt the excellence of the iBaby Care M7, said CEO Karl Xu.
SAN JOSE, Calif. (PRWEB) March 12, 2018
iBaby Labs is thrilled and proud to announce that the newly launched iBaby Care M7 has won the 2018 Mom's Choice Award, National Parenting Product Award (NAPPA) and Tillywig Award (Parent's favorite products). These highly sought-for awards acknowledge the iBaby Care M7 as a leading baby monitor in the parenting community and monitoring industry.
"We couldn't be more excited and thrilled to earn all three awards that exalt the excellence of the iBaby Care M7," said CEO Karl Xu. "We know that our total care monitor will help parents keep a close eye on their children and at the same time offer improvements to their breathing, listening, speaking, movement and vision skills."
The iBaby Care M7 is transforming the monitoring industry with top of the line features that promote early childhood education with audible content that challenges a baby's intellect. The wide variety of audible content and the built-in moonlight soother has allowed the iBaby Care M7 to win some of the most prestigious awards in the parenting industry.
"This monitor does a lot," says NAPPA Director Elena Epstein. "Its smart features including HD video & audio, air quality alerts, diaper and feeding alarms, night vision, 360° view, a built-in moonlight soother and a wide variety of music, lullabies, bedtime stories and white noises."
The iBaby Care M7 is a product that has gained top recognition due to the excellent features made specifically with parents and their children in mind. And along with the audible content, the iBaby Care M7 has superb safety features that include HD video, smart alerts, sensors, and diaper and feeding alarms.
"Our aim to introduce families and educators to best-in-class products and services," explains Dawn Matheson, Executive Director of the Mom's Choice Awards. "The MCA evaluation program is designed to incorporate the expertise of scientists, physicians, and other specialists; but we also engage parents, children, educators, and caregivers because they are experts in knowing what is best for their families."
The iBaby Care M7 has received a total seal of approval from the highly recognized Mom's Choice, NAPPA, and Tillywig.
About iBaby Labs Inc.
iBaby Labs is a Silicon Valley-based startup specializing in video monitoring and wellness connected home products for the whole family. For over 5 years, iBaby has been changing parent's lives with smart baby monitors that are sold online with Apple, Amazon, Nordstrom, Target, buybuy BABY, Walmart, and other major retailers.
iBaby has received worldwide recognition by largest media outlets and won highest awards and nominations in the industry that include awards from The Bump, NAPPA, National Parenting Center and others.
Visit https://ibabylabs.com to learn more.