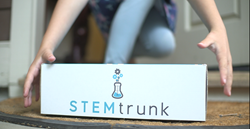 You need technology, to teach technology.
Sacramento, California (PRWEB) March 01, 2018
One of the biggest obstacles parents face when looking to purchase high end educational products is the price. Many technology products such as build-your-own computer kits, robotics sets and learn-to-code hardware, easily set a parent back anywhere from $100 - $400 for a single item with no guarantee that their child will love the product beyond the first month. STEMtrunk assuages that worry with a program that lets families rent the same well-known products for a fraction of the cost on a rotating subscription basis.
California based entrepreneur and father of two, Aaron Watkins wanted his kids to have it all when it came to educational products. The high cost however, was always a concern. "Growing up in a tech-forward household, my own children always wanted the latest and greatest gear that they saw in the stores," said Aaron, "but the rate at which they out grew items, or simply got bored with them was astounding. Their closets were cluttered with hundreds of dollars of products that hardly saw the light of day. It was not sustainable."
STEMtrunk is his solution to the problem. "There are companies out there that rent LEGOs, movies, cars and clothes – why couldn't we do the same with educational products?" With a degree in Neuroscience and almost 15 years in technology marketing, Aaron knew he wanted to focus on STEM – the educational acronym for Science, Technology, Engineering and Math. "You need technology to teach technology," Aaron says. "While there are plenty of box-of-the-month style companies out there, most are filled with cardboard cutouts and baking soda bottle rocket type experiments. Because you keep those boxes, everything inside them has to be cheap. STEMtrunk allows us to send the very best to families… items they choose themselves and that have ten or more times the value of what you find in a monthly box." STEMtrunk provides something new and exciting on a regular basis without the associated clutter and waste of buying outright.
After completing a test pilot with families in the Sacramento, California region, STEMtrunk is taking its offering directly to the public, choosing to launch the program via an Indiegogo crowdfunding campaign launching today. Backers of the program can reserve three, six or 12-month subscriptions for as low as $25 per month. In addition, STEMtrunk is offering up a solution for schools who wish to have access to these same products in classroom sized kits.
About STEMtrunk Inc.
STEMtrunk is a California based educational rental service whose goal is to make high end educational products available to all. Customers subscribe to receive their favorite STEM educational hardware in the mail, which they keep until they are ready to return the item and receive the next product on their self-curated list. STEMtrunk is a graduate company of the 4.0 Schools Tiny Fellowship program.