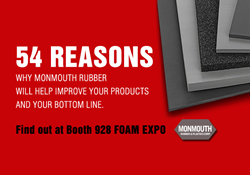 54 Reasons to visit Booth 928 at the Foam Expo - During each of the 54 years Monmouth Rubber has learned something new or how to do something better from working with customers one on one - John Bonforte Sr., GM & Technical Director
LONG BRANCH, N.J. (PRWEB) March 01, 2018
During each of the 54 years learning something new or how to do something better from working with customers one on one the following transpired:

All of this information was cataloged in a Technical Support Library.
The Technical Support Library is filled with 54 years of solutions to customer problems.
Customer driven support with solutions to customer problems. That is what has been done, still doing and will continue to do for customers.
Monmouth's problem-solving ideas scan the world and solutions are put into practice here in the USA.
So here is the 54 Dollar Challenge: try Monmouth out with an idea, problem or any wild thought and see how Monmouth's Technical Solution solves the problem.
Only one reason for Monmouth: solving customer problems, and quickly.
54 Reasons That Make It Work: http://monmouthrubber.com/54-reasons/
Monmouth Rubber & Plastics will be available to meet, and review and provide technical solutions at FOAM EXPO – Booth 928, March 6 – 8, 2018 in Novi, Michigan, USA. Those who wish to set up a meeting should contact Jenna Stevens at 1-888-362-6888 Ext 13 for more information.
CONTACT: John Bonforte, Tech Support & GM at johnsr(at)monmouthrubber(dot)com
VISIT THE MONMOUTH RUBBER COMPANY WEBSITE - http://monmouthrubber.com/