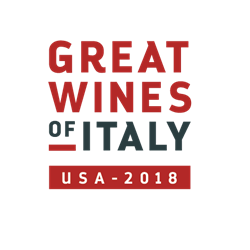 NEW YORK (PRWEB) February 28, 2018
JamesSuckling.com presents the Great Wines of Italy US tour, beginning on Tuesday, March 6 at the IAC Building in New York City, featuring Italy's most sought-after wines from prestigious and renowned Italian brands as well as chosen premium boutique wineries. World-renowned wine critic James Suckling has selected more than 120 wineries to present two of their top wines or new releases with top scores of 90 points and above. The selection will include superb wines from all of Italy, including Brunello, Barolo, a selection of Super Tuscans, Barbaresco, Amarone, Chianti Classico, and many more. Winemakers and owners will be personally in attendance to pour you some of their best wines and discuss what makes them so special at this exclusive walk-around tasting.
The tour includes four events across the United States. For more information, please visit JamesSuckling.com.
New York
March 6, 5-8pm (media & trade preview begins at 4:30pm), IAC Building, 527 W 18th Street
Miami
March 7, 5-8pm (media & trade preview beings at 4:30pm), EAST, Miami, 788 Brickell Plaza
Beverly Hills
March 9, 5-8pm (media & trade preview begins at 4:30pm), Montage, 225 N Canon Drive
San Francisco
March 11, 3-6pm (media & trade preview begins at 2:30pm), Presidio Golden Gate Club, 135 Fisher Loop
For press registration and inquiries, please contact Eleonore Podda (epodda@colangelopr.com) or Josh Zoland (jzoland@colangelopr.com) of Colangelo & Partners.
About JamesSuckling.com:
JamesSuckling.com is a wine media platform and events company founded by esteemed journalist and wine critic James Suckling. The website provides a range of content, from tasting notes and videos to blogs and events that focus on the great wines of the world, including Italy, Bordeaux, Champagne, Australia, New Zealand, California, Chile, and Argentina. CEO and Editor James Suckling believes that today's wine drinker deserves more than just written reviews and criticism. They need to see with their own eyes the place, the people, and the rating process. James and his team of critics rate about 17,000 wines a year using the 100-point scale. JamesSuckling.com organizes more than a dozen events each year in cities across the United States and Asia for consumers and trade.