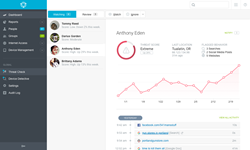 "We're all looking for ways to make sure our children are safe," says Lightspeed Systems President and CEO Brian Thomas. "We believe the technology Lightspeed has developed and the data we've curated can now be used to do even more: to keep students safe offline as well."
AUSTIN, Texas (PRWEB) February 28, 2018
Today, Lightspeed Systems announced a new element to its Relay student safety and filtering solution: Threat Check. Threat Check provides schools with information that can help identify high-risk behaviors and prevent school violence, self-harm, bullying, and more.
Using advanced machine-learning technology, Lightspeed Systems' data science department has processed and curated data to build multiple, proprietary models of students' typical online behavior specific to several differentiating attributes, including age and geographic location.
Through its web filtering solutions, which are used in more than 6,500 U.S. school districts to protect 25 million students, Lightspeed Systems has a vast and unique trove of data about the typical online activities of K-12 students. This includes web browsing activity; social media interests and posts; online communities to which students belong; searched phrases; minutes spent online; time of day of peak web activity; and more.
Threat Check combines that online activity analysis with other data points: School personnel can flag high-risk students and input offline activity such as violence, threatening speech, or bringing a weapon to school. This synthesized insight gives schools a more holistic picture of potential threats, as well as indicators of when high-risk students are escalating toward violence.
"Especially now, we're all looking for ways to make sure our children are safe," shares Brian Thomas, President and CEO of Lightspeed Systems. "Lightspeed Systems has been committed to helping schools keep their students safe online for 20 years. We believe the technology we've developed and the data we've curated in that time can now be used to do even more: to keep students safe offline as well. By partnering with school communities, we can provide another critical component to school safety, which is our greatest mission."
With actionable information in the form of easy-to-consume and easy-to-share trend reports, risk scores, timelines, and real-time alerts, Threat Check arms schools with the information and tools they need to keep their students safe. Alerts and reports can be shared with school staff, safety personnel, law enforcement, parents, and more so appropriate action can be taken in real time.
"We already use Relay to filter, monitor, and protect our students — and this new feature will give us even more insight and tools to do that," Gary Brantley, CIO of DeKalb County School District in DeKalb County, Georgia. "We are proud to partner with Lightspeed Systems on this powerful new initiative to keep our schools safe."
Threat Check will be available to all Lightspeed Systems Relay customers in April 2018.
About Lightspeed Systems
Lightspeed Systems partners with schools to make learning safe, mobile and easily managed. Partnered with 6,500 districts in the United States and 25,000 schools around the world, Lightspeed Systems offers integrated solutions for smarter K-12 school networks: Relay, Web Filter, and Mobile Manager. To learn more, visit http://www.lightspeedsystems.com.