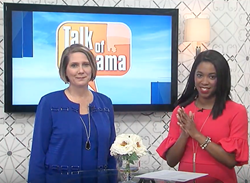 Mr. Carnegie believed that a person develops more when they are active in the process. - Nancy Covert, President, Dale Carnegie Central and Northern Alabama
BIRMINGHAM, Ala. (PRWEB) March 01, 2018
People are so fearful of public speaking. Presentations are an element of every business role. Whether you're an engineer presenting your ideas to your team at work, a sales manager updating your team on how they can be more effective or a CEO of a company… all of these roles need presentations skills. In fact, often times, employees are given promotions based on their ability to present effectively, even over their technical abilities.
For these reasons, being an effective public speaker is a skill that needs to be developed. "I hear many people say, 'I'll just go wing it. I'm better when I wing it' when really they're not," says Nancy Covert, president of Dale Carnegie of Central and Northern Alabama. Dale Carnegie, in conjunction with the Birmingham Business Journal is presenting a Successful Public Speaking workshop on March 1st to help local business men and women develop the skills to become stronger presenters. The half day program is designed to help individuals structure their business presentations, identify who is in the audience so they can tailor their presentations, create the proper structure for Q&A sessions, determine the right amount of information to include in their presentations, and perhaps most importantly, how to make a boring and dull subject sound exciting and fun.
"Mr. Carnegie believed that a person develops more when they are active in the process," said Covert. For that reason, this workshop is very interactive and everyone is engaged in the learning process. A Dale Carnegie workshop is never a one-way conversation. Many participants will be actively involved in speaking in front of the group, sharpening their public speaking skills during the event.
For individuals who would like to further develop their public speaking skills, Dale Carnegie of Central and Northern Alabama also offers a 2-Day program called High Impact Presentations. The experience in this presentation skills training seminar is as close as an individual can get to having a personal, public speaking training coach. Each participant will present at least seven times over the course of two days. Presentations are videotaped and evaluated. Participants expert one-on-one coaching at the end of each presentation. The presentation skills workshop are kept small and are in a supportive environment to allow for maximum engagement and learning. After taking this presentation skills course, participants have reported noticeable improvement in effectively communicating ideas, enhanced personal and corporate image, and ultimately increase sales for their businesses.
If you'd like to know more about this or any of the programs Dale Carnegie of Central and Northern Alabama has to offer, call 205-444-5011 or visit http://www.birmingham.dalecarnegie.com. Click here to view the full Talk of Alabama segment.