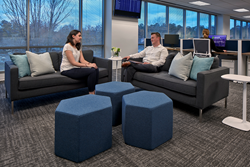 "Dyer Brown has been a pleasure to work with throughout the process, and their design will serve as a model for upcoming workplace projects."Ainsley Hill, CFMDirector of WorkplaceRenew Financial
ATLANTA (PRWEB) March 01, 2018
Innovator in interior design and architecture Dyer Brown has announced the completion of a major workplace interior for Renew Financial, a finance company that provides homeowners with innovative financing solutions for energy and safety upgrades. The new office, a full floor in an Alpharetta, Georgia office park, represents the first major project completion for the Boston-based design firm's recently opened Southeast office.
The cost-effective design incorporates a sophisticated aesthetic that reinforces the company brand and corporate culture. The 27,000-square-foot space in Alpharetta will function as a bustling call center as well as a Southeast headquarters for the national lender's activities in the region.
"We're delighted with the outcome," says Ainsley Hill, CFM, Director of Workplace for Renew Financial, "especially the positive feedback from our employees and executives. Dyer Brown has been a pleasure to work with throughout the process, and their design will serve as a model for upcoming workplace projects."
The project team designed a workplace that builds on an open office plan with amenities, including a 1,000-square-foot café-breakroom and a wellness room, as well as a training room, conference rooms, and four private offices.
"Ainsley and the Renew Financial team made it clear that they wanted an open space that would promote collaboration and teamwork, yet still provide privacy for call center functions" says Maggie Mitchell, IIDA, LEED GA, Project Manager for Dyer Brown. "We're happy to hear that the design appropriately reflects their brand and corporate culture."
For the new workplace occupying a full floor of a three-story suburban office park building, Dyer Brown began by programming the entry lobby and reception area on one side of the elevator bank, anchoring the adjacent conference rooms and private offices. The bulk of the floor plate is occupied by four 'quadrants' of open office space, from which employees enjoy access to amenities, common areas and support spaces. These include a wellness room, employee lockers, a training room, bike storage, and a print room. At the center of the workplace on the opposite side of the elevator bank is the 'café' – a shared employee break area equipped with refrigerators and well-stocked with bulk snacks. Periodically the café area is used to hold 'all-hands' firm-wide meetings, or for Renew Financial staff to enjoys a catered lunch provided by management.
Says Hill, "We use the café space for full staff meetings, but mainly it's essential for our team to have an enjoyable and relaxing space for sharing a meal, or a quick chat."
The office area is furnished with height-adjustable workstations for employee comfort. While there are panels on the workstations offering modest privacy, the panels are low-height to support the desire for an open workplace. The overall look for the new call center is crisp and professional, with 'pops' of color: walls, floors and ceilings are finished in cool greys and whites, while colorful furniture and accent paint in rooms designated for phone use invigorate the space. Built-in banquette seating and warm wood tones add to the welcoming, yet professional aesthetic.
As with all projects, Dyer Brown sought to integrate solutions that would be both impactful and cost-effective. One example was the strategic reuse of the existing ceiling grid in the space. Dyer Brown specified re-lamping of the existing two-by-four fluorescent fixtures with energy-efficient LEDs to achieve a bright yet comfortable color temperature — and reused the existing acoustic ceiling tiles throughout.
"Working with Ainsley and the Renew Financial team was an enjoyable experience," notes Mitchell. "Ainsley is detail-oriented and brings a great approach and contagious energy to collaboration — the Renew Financial team provided a lot of input, especially on furniture. Client feedback is always critical to a project's success."
"We look forward to continuing what has so far been a very successful partnership," she adds. ###
PRESS CONTACT: For more information, photographs and interviews,
contact Adam Sullivan at 212.757.7932 or adam(at)ccsullivan(dot)com.
About Dyer Brown
Recognized nationally for its award-winning portfolio of architecture and interior design projects, Dyer Brown Architects offers a fully integrated suite of professional services including high-level building owner and corporate advisory as well as 3D concept visualization. The firm's clients range from property owner/developers and end-users to global corporations and leading regional brands in such market sectors as workplace, retail, hospitality and higher education. Known for its unwavering commitment to both design excellence and client service, Dyer Brown's 50 professionals forge long-lasting relationships with business leaders, building owners and brokers, and institutional leaders. Dyer Brown believes that buildings and spaces -- the backdrop to our daily, shared experience -- should always be inspiring, useful and enjoyable. See the firm's award-winning work and a detailed overview at dyerbrown.com.