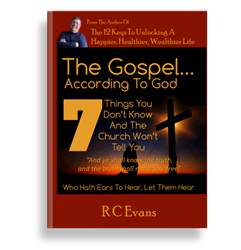 ARLINGTON, Texas (PRWEB) March 02, 2018
DesertStream Publications is happy to announce the launch of their newest book, "The Gospel…According to God," by noted Christian author, R C Evans, author of "The 12 Keys To Unlocking A Happier, Heathier, Wealthier Life;" "Financial Freedom – The S.I.M.P.L.E. Way, A Biblical Approach To Financial Planning;" and "The Endtimes: What You Need To Know Right Now."
In his newest book, "The Gospel…According To God," RC Evans identifies seven popular Christian doctrines that have been misinterpreted or misunderstood for centuries.
An inspired guide; this book details how doctrine commonly preached in churches, in books, and on radio and television, is leading people away from the truth of God's word.
"The Gospel…According To God," looks beyond the fables and endless genealogies designed to fill the pews and collection plates…shedding light on the weightier matters of Christianity and the life-changing tenets every Christian needs to know.
The author says a lot of Christians are going to be sorely disappointed when they get to the pearly gates and hear Jesus say, "Depart from me, I never knew you."
According to Evans, "While this book was written for Christians, it's intended for anyone who is skeptical, confused or just wants answers to questions that have plagued people for generations."

What Is Eternal Life"
What Happens After We Die?
What Is Freewill?
What Is Salvation?
And Much, Much More
Evans says the Bible teaches that "life and blessing" are not the result of "Believing IN God;" as is commonly taught; they are the reward for BELIEVING God. He encourages readers to embrace the words God spoke to him thirty years ago that changed his life: "Stop listening the words of man…and start listening to the Word of God."
"It's not rocket science," Evans opined, "God says what he means; and means what he says."
This 115 page book is enlightening. It's a quick read; but the depth of meaning is unparalleled. It will help readers understand why Jesus said to beware of the Scribes and Pharisees; and why he constantly warned of false teaching.
"The Gospel…According To God" is controversial; shaking the pillars of organized religion. Challenging doctrines that have been preached for over 500 years is sure to rankle the religious elite; but as Evans points out, five hundred years ago people believed they had to pay the Pope to be forgiven.
"Just because everyone believes something to be true, doesn't make it truth," Evans says. "At one time everyone believed the earth was flat."
"The Gospel…According To God" shouldn't be taken lightly. It is a "must-read" for Christians and an enlightening work for anyone who is confused about what they hear in church, on radio and television, or read in books.
It is filled with scriptural references to support its positions and dispels some of the most revered Christian beliefs.
Sometimes the truth hurts…this book is no exception. It sheds light on some of the most hallowed teachings of the church; but those who open their eyes, ears and hearts to the truth will be rewarded with a gospel that is not only logical and practical…it finally makes sense.
The book is available in both print and digital versions on Amazon.com. The inspired works of RC Evans may be seen at https://www.amazon.com/author/evansrc
A Press Kit and a review copy of the book (in PDF format) is available to journalists and bloggers at https://www.desertstreampublications.com/gospel-press-kit
About the Author:
Illuminated on Christmas Day, 1986, Ray Evans committed his life to serving God after a "Damascus Road" experience on January 13, 1987. He spent nine months in prayer and meditation growing in wisdom, knowledge and understanding of God and his ways; and over thirty-years walking and talking with God, waiting for his ministry to begin. The author of several inspired works, he is also the owner of SimpleGrafx, a digital marketing firm established in 1997 and several other on and offline businesses.
About DesertStream Publications:
DesertStream Publications began as a part-time ministry in 1992 to publish and market the books of Ray Evans (AKA RC Evans). There are no current plans to expand the author list.
To schedule an interview with Ray Evans or to use content from the book, please contact:
Ray Evans - SimpleGrafx – revans@simplegrafx.com or call him direct at 817-779-3446