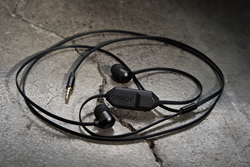 "While our work may be perceived today as only helping those with hearing disabilities, we are excited to be leading the next wave of assistive technology entering the mainstream."
PHOENIX (PRWEB) March 02, 2018
Being recognized and awarded for your company's invention in any capacity is an honor, which is exactly what OTOjOY did, receiving two prestigious awards and a third nomination in just the first two months of 2018. OTOjOY is a technology company that specializes in hearing accessibility and consumer audio technology by using hearing loop equipment, most commonly used in large venues.
It was announced today that OTOjOY LoopBuds, the company's first invention, was named a finalist in the 2018 GSMA's Global Mobile Awards in the Best Use of Mobile for Accessibility & Inclusion category. These "Oscars of the mobile industry" are regarded as the most coveted awards in the field and recognize the innovators, leaders, and game-changers that drive the basis of this dynamic and rapidly changing industry.
OTOjOY LoopBuds create access to crystal-clear speech and music during concerts, lectures, and conferences in any hearing loop assistive listening system worldwide. High-fidelity sound without distortion or background noise is streamed directly to smartphones in the audience and dramatically improves speech comprehension, music enjoyment and immersion for any user with or without hearing loss.
"It has been a rewarding few months. To receive these awards is an unbelievable honor," said Thomas Kaufmann, Founder and CEO of OTOjOY. "While our work may be perceived today as only helping those with hearing disabilities, we are excited to be leading the next wave of assistive technology entering the mainstream."
OTOjOY LoopBuds also received a 2018 Consumer Electronic Show (CES) Innovation Award in the Accessible Tech product category. Products entered in this prestigious program are judged by a preeminent panel of independent industrial designers, engineers and members of the trade media to honor outstanding design and engineering in cutting-edge consumer electronics products. Additionally, the Edison Awards announced OTOjOY LoopBuds as an award winner for this year's innovation awards. Finalists were chosen by the world's top senior business executives, academics and innovation professionals. These awards "symbolize the persistence and excellence personified by prolific innovator, Thomas Edison."
For more information on OTOjOY, visit otojoy.com