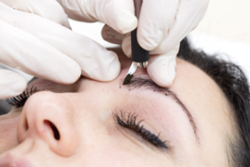 [Ellie] is known throughout the local cosmetic community for her expertise and years of work providing results that consistently delight her clients
BEVERLY HILLS, Calif. (PRWEB) March 05, 2018
Beverly Hills Permanent Makeup is now welcoming clients from all parts of the Los Angeles Area at its new location at 9730 Wilshire Blvd, Suite 105. The Wilshire location offers three private rooms that are designed to provide a comfortable and relaxed environment. The salon's team of aesthetic professionals is led by Elnaz Shariat, who is known to clients and staff alike as Ellie. Ellie's most popular offering is a process often referred to as eyebrow embroidery, a type of semi-permanent makeup in which eyebrows are darkened and made more symmetrical, either to compensate for uneven or very sparse brows or to better flatter the overall appearance of a client without daily application of mascara.
Beverly Hills Permanent Makeup notes the leading edge process used by Ellie is microblading, in which tiny amounts of pigment are injected one by one for a fuller look. The process is somewhat similar to tattooing, but it differs in that experts and clients agree that the ultimate result is practically indistinguishable from actual eyebrow hair. Also, the effect is not lifelong, lasting between 18 months and two years in most cases, which is currently rated at an average of 5 stars on Yelp.
In addition to creating more defined eyebrows, the process can be used for other purposes. Many of the salon's clients are dealing with health issues. Cancer patients undergoing chemotherapy often turn to the process so they can feel more normal as they go about their life. Beverly Hills Permanent Makeup says that some of its clients are sufferers of alopecia – a type of hair loss in which the body's immune system causes hair to fall out, often seemingly at random. Also, women with breast cancer who have lost all or part of their areolas due to surgery can take advantage of the process which replaces missing skin pigment. The salon is proud of the fact that its patients often praise Ellie and her team for their sensitive and compassionate approach to all kinds of delicate matters.
Anyone trained to provide tattoos is also legally allowed to perform microblading and permanent make-up, and not all providers are fully trained professionals, says Beverly Hills Permanent Makeup. Ellie, however, is known throughout the local cosmetic community for her expertise and years of work providing results that consistently delight her clients. Aside from being registered with Los Angeles County's public health department as a body art practitioner, Ellie holds numerous certifications in microblading, permanent make-up, pigments and skin science. She is also known for commitment to the safety of her clients in terms of preventing possible complications, having had detailed training in the control of blood borne pathogens.
Beverly Hills Permanent Makeup says that Ellie and her entire team are thrilled to be at its new location providing outstanding service with a heart. People on a budget who may be contemplating taking advantage of her services should not be intimidated by its Beverly Hills address. Providing outstanding treatment for a reasonable cost is a major part of Ellie's commitment and free initial consultations are available.
To find out more about Ellie and Beverly Hills Permanent Makeup, call 424-BHPM-411 (424-2476-411) or visit its web site at https://www.bhpermanentmakeup.com/.