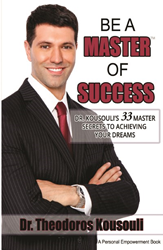 LOS ANGELES (PRWEB) March 01, 2018
Is life getting harder month-to-month, year-to-year instead of easier and more fun? Are the systems of success rigged by those who have the keys to lock out those who don't? Welcome to the super-saturated world of subliminal advertising and thought control. The constant hidden hypnosis in society affects how everyone views the world – and how one can succeed within it. "Be A Master® Of Success"includes 33 Master Secrets to achieving entrepreneurial dreams and helps readers see the world they're working in from a brand new perspective.
About the Author:
Dr. Theo Kousouli is a leading mind-body holistic healer who is changing the landscape in his field. He is a Board Certified Doctor of Chiropractic (spinal specialist), a hypnotherapist, and best-selling author of 8 life-changing books. As a personal transformation coach, Dr. Kousouli has advised entertainers, business leaders, energy healers and spiritual seekers of all varieties using the Kousouli® Method. He has been featured on BRAVO, E!, and other television shows, publications, and is a popular guest expert on radio shows and health summits. His professional and spiritual path is a direct result of overcoming family, health and medical misfortunes as a young man.
The Kousouli Beverly Hills Chiropractic Health & Wellness Center is located on Wilshire Blvd. Expansion plans include establishing schools and seminars to teach his trademarked The Kousouli® Method. Books are available on Amazon and at http://www.BeAMaster.com
Social Media:
https://www.instagram.com/drkousouli
https://www.facebook.com/drtheokousouli
http://www.BeAMaster.com
Website:
http://www.DrKousouli.com
#DrKousouli #BeAMaster